According to data from DEED's Local Area Unemployment Statistics program, Southwest Minnesota's unemployment rate dropped back to 3.2% in July of 2021, matching the low set in May of 2021. Among the six planning regions in the state, Southwest was the second fastest to return to its pre-pandemic unemployment rate levels, alongside Northwest Minnesota, which has also seen a rapid rebound to low unemployment. Many of the counties with the lowest rates in the state are located in Southwest.
Over the year, the region's rate is 2.2% lower than its posted rate in July of 2020, when it hit 5.4%, though while heightened, was the lowest of the six regions in the state at the time. What's more, Southwest Minnesota's current unemployment rate is actually lower than its unemployment rate from July of 2019, when the region reported a 3.5% mark.
Instead of inflated unemployment rates coming out of the pandemic-induced recession, the region is experiencing an extremely tight labor market. The region was already seeing slowing labor force growth over time as the region's population was aging, and in many counties, declining. However, COVID-19 prompted even more changes in the region's workforce.
With less than 213,000 labor force participants in July of 2021, the total number of available workers in Southwest Minnesota was down more than 13,200 workers compared to July of 2020, and fell over 13,600 compared to July of 2019, prior to the pandemic. While there is typically some seasonal fluctuation in the region's workforce, the labor pool has been shallow all summer long in Southwest. Workers have been slow to come back, leaving employers scrambling to find workers to fill the jobs they have available.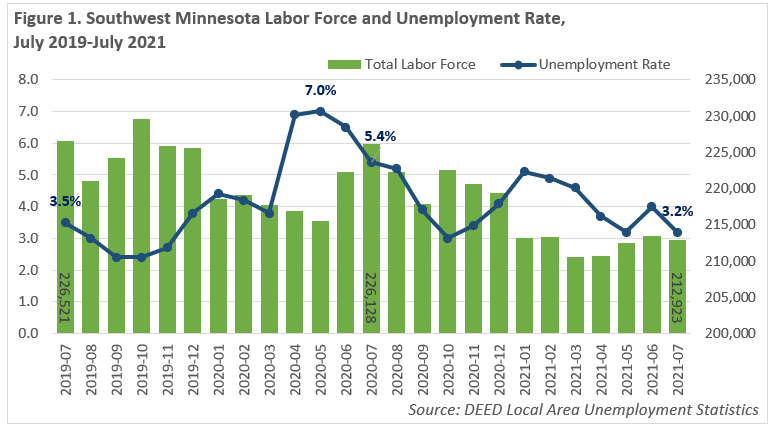 On a percentage basis, Southwest Minnesota has seen the biggest decline in labor force of the six planning regions compared to two years prior. It's down more than twice as much as the state overall. In fact, Southwest now has the tightest labor market in the state, with just 0.8 jobseekers per vacancy in the most recent survey period – making it the first region to drop back below a 1-to-1 ratio.
Employers in Southwest reported about 10,200 job vacancies in the fourth quarter of 2020, which was up about 2,435 postings compared to 4th quarter of 2019. Despite the struggle to find workers – or maybe because of it – that was the fourth highest number of job vacancies ever reported in the region. In comparison, there were only about 7,700 unemployed workers available and actively seeking work, leaving less than one jobseeker for every vacancy. Across the first seven months of 2021, the region averaged just 8,700 unemployed workers, with the estimated number dropping below 7,000 in July.
With over 4,000 vacancies, which was more than double the count in the 4th quarter of 2019, prior to the pandemic, demand was highest in Health Care & Social Assistance. The region also saw plentiful positions in Retail Trade, which had nearly 1,900 vacancies, which was three times the number in 4th quarter 2019, and Manufacturing, which had about 725 vacancies, though that was only up 80 compared to 2019. In contrast, openings in Accommodation & Food Services were cut in half compared to the prior year, with just 764 vacancies as those customer-facing industries took longer to bounce back.
Employers will need to think creatively about how to attract and retain talented workers. This can include assessing business needs and developing workforce strategies, as well as reaching out to new communities that may have been overlooked in the past. Companies looking for help can reach out to DEED's Workforce Strategy Consultants, who can share best practices, networks, and proven strategies to build talent pipelines.
For More Information
Contact Labor Market Analysts Luke Greiner at 320-308-5378 or Mark Schultz or reach out to your local CareerForce location.