Southwest Minnesota is home to an innovative rural career and technical education (CTE) pathway initiative known as LYFT: Launch Your Future Today. According to their website, "The goal of LYFT Pathways is for every secondary student in the region to gain marketable skills through meaningful CTE courses and opportunities which lead to further education and careers that match our region's labor market needs."
In collaboration with DEED's Regional Analysis and Outreach unit, LYFT has created a video on YouTube that explains career exploration, including a focus on the 3 E's:
Exploration
Exposure
Experience
To help students through the process, they designed an interactive Road Map with lots of free and useful resources, including a comprehensive worksheet, information on tours, job shadowing, and other career events, and links to further education and training.
This information also syncs up with DEED's new Career Pathways tool, which can also help students and job seekers explore job opportunities and learn about the jobs that are in highest demand in the region. This includes links to our Path to Career Success page, which also lays out a helpful guide to career and education planning.
To use DEED's new Career Pathways tool, explore the helpful hints listed below:
The tool includes filters for region and required education level, as well as a search bar for occupational titles. You can use the "Where Do You Live?" filter to choose Southwest Minnesota, while the "Required Education" filter allows you to sort occupations based on the typical level of education that they require.
Each icon in top navigation bar represents a "Career Cluster" or broad grouping of occupations based on common knowledge and skills. You can hover over each icon to see the name of the Career Cluster. By clicking on an icon you will limit the occupations shown in section 3 of the table to that Cluster. To make it easier to sort, the color of each icon corresponds to the broader Career Field it belongs to.
The table in section 3 includes all of the occupation information, such as current demand, typical educational requirements, number of jobs currently filled (length of bar), career field (color of bar), and median wage (dot). If you hover over an occupation you will get a pop-up with even more information, including projected employment growth and a typical wage range. And clicking on an occupation in the table will take you to a detailed career page on the CareerForceMN.com website that includes licensing, training, and certification data, videos, some typical work activities, and actual job listings in the state of Minnesota!
You can reset any of the filters by clicking again on that filter or by clicking the "Reset All Filters" button. In addition, the "Resources" tab at the top provides contact information for our Regional Analysts.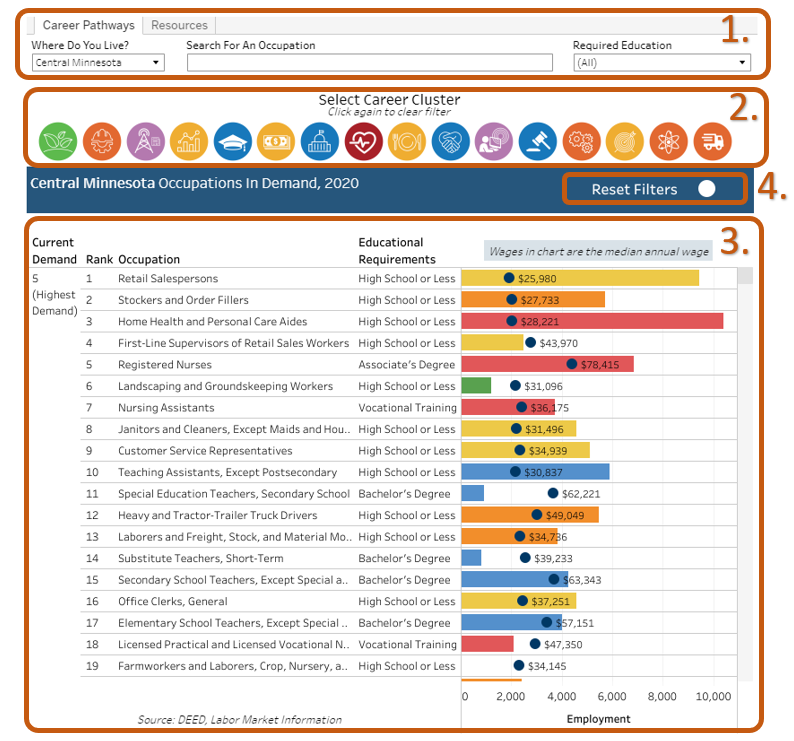 For More Information
Contact Labor Market Analysts Luke Greiner at 320-308-5378 or Mark Schultz or reach out to your local CareerForce location.