According to the U.S. Census Bureau, there are more than 24,000 veterans living in the 23 counties of Southwest Minnesota, accounting for about 8% of the adult population. Of those, about 8,000 veterans between the ages of 18 and 64 are actively participating in the labor force, providing employers with the skilled workers they need to succeed.
However, since the pandemic started in March through the week ending October 17, nearly 4,000 veterans had filed an application for Unemployment Insurance (UI) in Southwest Minnesota. Though the number of new UI applications filed by veterans has remained below 50 each week for the past two months, the cumulative count also means that nearly half of working-age veterans in the region have suffered some sort of economic disruption during the pandemic (see Figure 1).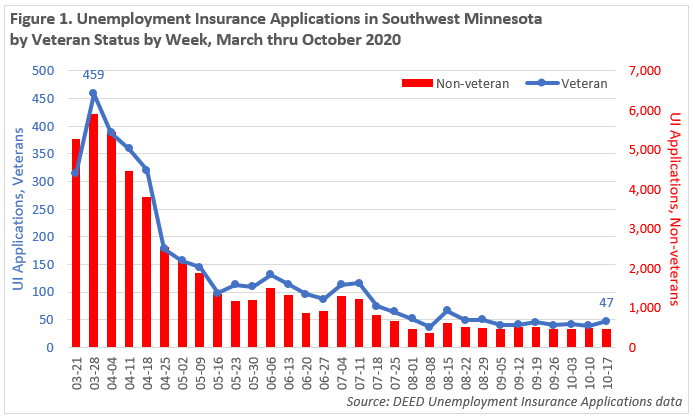 Many workers who filed UI claims earlier this year have returned to work, with the unemployment rate in Southwest Minnesota dropping back to 3.8% in September 2020 – that's the same as the region's rate in March 2020 before the pandemic hit. The unemployment rate for veterans in the region has stayed low consistently over the past 5 years and was well below 4.0% in 2018 according to Census data. Monthly data is not available for veterans at a regional or state level, but at the national level, unemployment rates jumped from 4.1% in March to a high of 11.7% in April, but has since fallen back to 6.4% (see Table 1).
Table 1. Unemployment rates for people 18 years and older by veteran status, U.S.
Jan. 2020
Feb. 2020
Mar. 2020
Apr. 2020
May 2020
June 2020
July 2020
Aug. 2020
Sept. 2020
Veterans
3.5%
3.6%
4.1%
11.7%
9.0%
8.6%
7.9%
6.4%
6.4%
Nonveterans
3.9%
3.7%
4.4%
14.4%
13.0%
11.1%
10.5%
8.6%
7.6%
Source: Bureau of Labor Statistics
Nationally, the unemployment rate for veterans remains below the rate for non-veterans, likely due to the industries and occupations they are employed in. Data show that veterans are more likely to be employed in less-affected areas like natural resources, construction and maintenance occupations as well as production, transportation and material moving occupations than non-veterans; and less likely to be employed in the service, sales and office occupations that have been hit hardest.
DEED has resources and representatives through CareerForce in place to provide priority services for former military members in all CareerForce locations across the state. This includes help with setting career goals, pursuing education, or finding a job.
In Southwest Minnesota, there are two great contacts to help veterans with employment:
Southcentral Minnesota: Katie McNair
Email: katherine.mcnair@state.mn.us
Office: 507-344-2619
Cell: 507-226-6527
Southwest Minnesota: Rebecca Kass
Email: rebecca.kaas@state.mn.us
Office: 507-476-4043
Cell: 507-226-6582
Veterans, active duty military service members and their spouses are also invited to participate in this year's Virtual Veterans Career Fair taking place on November 19.
For More Information
Contact Labor Market Analysts Luke Greiner at 320-308-5378 or Mark Schultz.