With more than 31,500 jobs at nearly 600 factories, Manufacturing is the second-largest jobs-providing industry in Southwest Minnesota. Manufacturing accounts for more than one in every six jobs in the 23-county region, and has the largest payroll of any industry, providing 21.8% of total wages. In fact, average annual wages in Manufacturing neared $53,000 in 2019, which was about $10,000 higher than the average for all industries.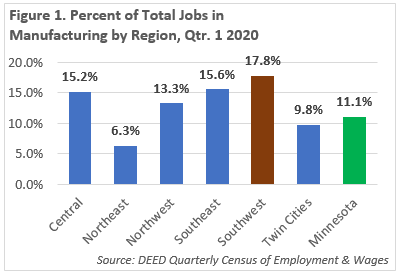 Southwest Minnesota has the highest reliance on Manufacturing of the six planning regions in the state – where it provides 17.8% of total jobs and has strengths in several subsectors (see Figure 1). The largest is Food Manufacturing, with 11,095 jobs at 102 establishments – providing over one-third of the manufacturing jobs in the region. Other important sectors include Machinery Manufacturing (67 firms and 3,203 jobs), Printing and Related Support Activities (52 firms and 2,962 jobs), Fabricated Metal Product Manufacturing (97 firms and 2,117 jobs), and Electrical Equipment, Appliance, and Component Manufacturing (20 firms and 2,116 jobs).
Not only do they collectively provide a lot of jobs, but many of these are large employers. Manufacturers in a couple of these sectors average more than 100 employees per site, with Food Manufacturers being the largest employers in the region. In contrast, Fabricated Metal Manufacturers are among the smallest, averaging just over 20 employees per site.
Statewide, Manufacturing provides about 11% of total employment, which makes Southwest stand out even more. The region is home to six of the top ten manufacturing-dependent counties in the state, led by Le Sueur (2nd), Nobles (3rd), and Cottonwood (4th) in the top five, all having over 30% of total employment in Manufacturing. Of the 23 counties in the region, 15 have a higher concentration of manufacturing employment than the state (see Figure 2).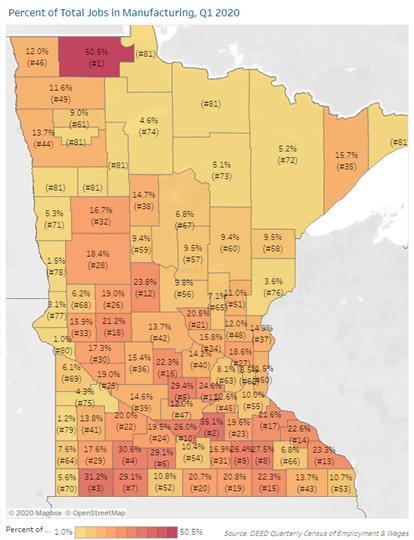 And while there were temporary layoffs earlier in the spring and summer related to COVID-19, a quick check of jobs posted on MinnesotaWorks.net in Southwest Minnesota reveals well over 400 openings in Manufacturing, ranging from positions on plant floors as assemblers, machine operators, material handlers, and welders – as well as openings in the office, including human resources and engineering. This high number of openings clearly shows hiring demand in the region for workers in a variety of different roles, with different skills and training required. Career seekers who are interested in a high-paying industry will want to take a look at Manufacturing in Southwest Minnesota.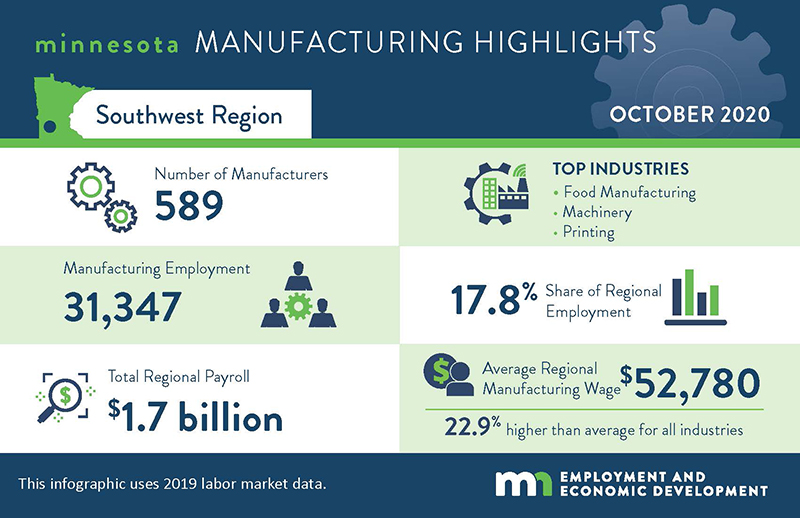 For More Information
Contact Labor Market Analysts Luke Greiner at 320-308-5378 or Mark Schultz.