With ridiculously low unemployment rates being reported across the region, there are opportunities for workers of all demographic characteristics to find jobs. Southwest Minnesota is home to over 8,300 veterans in the labor force between the ages of 18 and 64, of which just 360 were unemployed.
In sum, the unemployment rate for veterans in Southwest Minnesota dropped to 4.3 percent in 2017, ranging from a low of 0.0 percent in Nicollet and Waseca counties to a high of more than 13 percent in Lac qui Parle and Lincoln counties. To illustrate the low rates, DEED's Regional Analysis & Outreach Unit created an interactive map showing unemployment and labor force participation rates for veterans and non-veterans by county (Figure 1).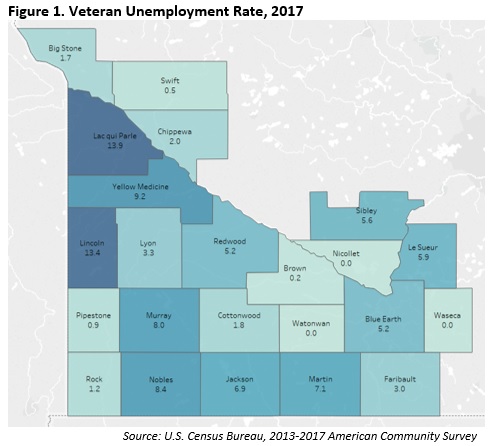 Unfortunately, the unemployment rate for veterans was still higher than for non-veterans in 13 of the 23 counties of Southwest Minnesota. As noted, the biggest gaps were for Lac qui Parle and Lincoln counties, which were both more than 10 percent. There was less than a 1 percent difference in unemployment rates between veterans and non-veterans in five counties, while Cottonwood, Nicollet, and Waseca had the best job markets for veterans in comparison to non-veterans in 2017 (Figure 2).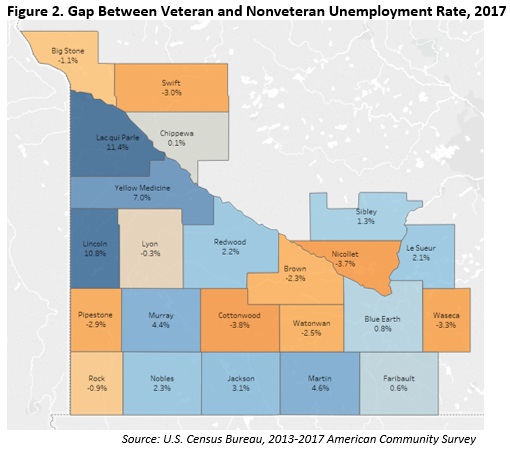 Employment Resources for Veterans
If you are a veteran and seeking employment, the following steps can help:
For More Information
Contact Luke Greiner at 320-308-5378 or Mark Schultz.