Manufacturing is a big deal in Southwest Minnesota, accounting for about one in every six jobs in the region. With 31,136 jobs at 603 firms, manufacturing provides almost the same number of jobs that the health care and social assistance industry (31,321 jobs) does. Manufacturing comprises 17.6 percent of total employment in the region, compared to just 11.2 percent of total jobs statewide.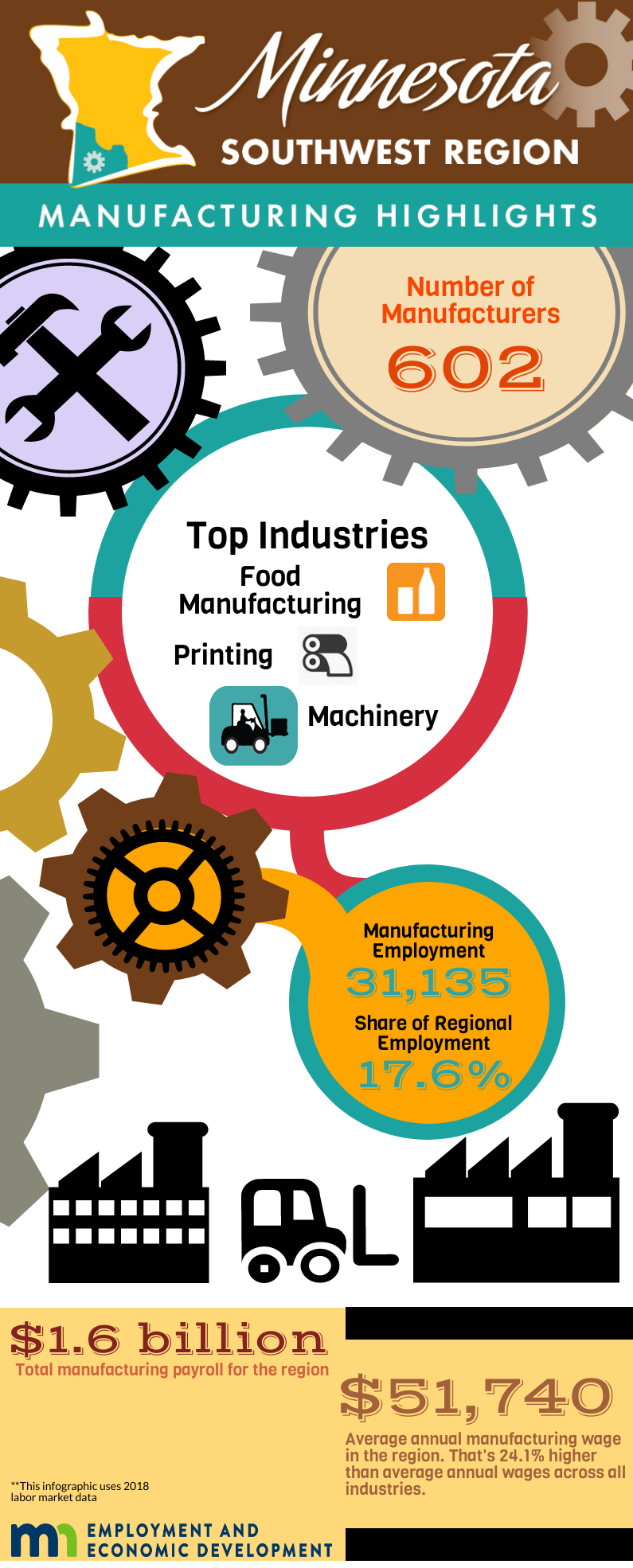 Health care has been growing rapidly in the region, and finally surpassed manufacturing as the largest employing industry in 2018. However, manufacturing still has the largest payroll in Southwest Minnesota, providing more than $1.6 billion in total wages in 2018, compared to $1.3 billion for health care and social assistance. Average annual wages were $51,737 in manufacturing, which was over $10,000 higher than in health care ($41,426) and the total of all industries ($41,780) (Table 1). 

With high wages and high current demand, there are many career pathways in manufacturing worth exploring. DEED has partnered with the
Southwest Minnesota Private Industry Council
and the
South Central Workforce Council
to create a
labor market information campaign
for students and job seekers. This includes a set of infographics that presents useful data in an easy-to-read and understand format.
The career pathways highlighted in the campaign span educational requirements from a high school diploma or less up to a bachelor's degree or higher, and everywhere in between. Job seekers interested in working in the manufacturing industry in Southwest Minnesota will find opportunities like welders – who earn a median hourly wage of $19.38, industrial machinery mechanics – with a median hourly wage of $22.52, and mechanical engineers – which command more than $36 an hour (Figure 1).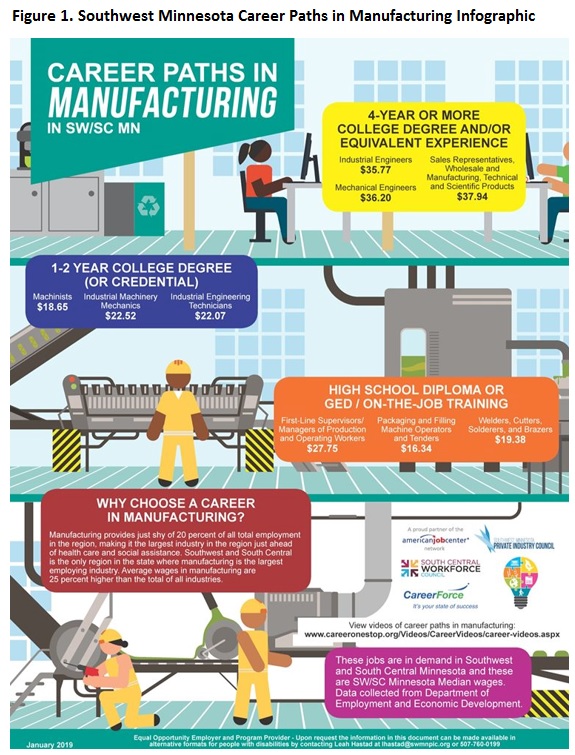 In addition to brief descriptions of the jobs on the career path flyer, the infographics also include more in-depth profiles of several selected occupations that are in high demand. For example, a flyer exploring
CNC Programmers
and
Machinists
lists what they do on the job, the typical work environment, important qualities, educational requirements, and wage ranges for the region (Figure 2).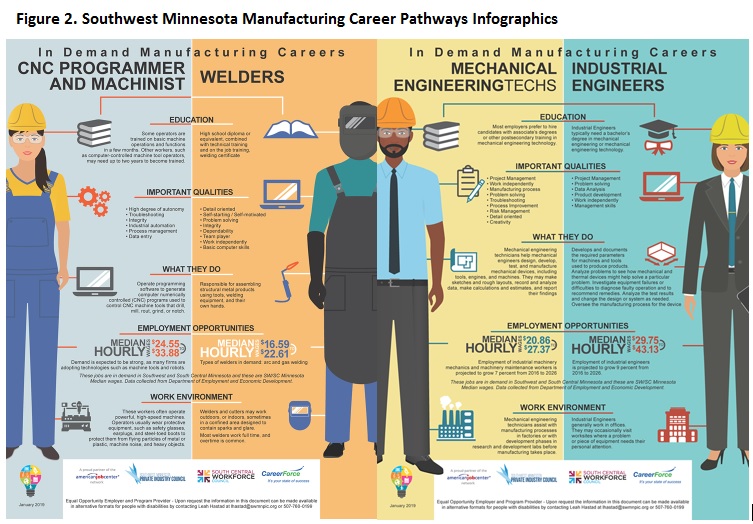 Manufacturing is an extremely important industry in Southwest, and a great career opportunity for students and job seekers to pursue. Using labor market information and a set of dynamic infographics, the
Southwest Minnesota Private Industry Council
and the
South Central Workforce Council
are working together to get workers placed in this industry.
For More Information
Contact Luke Greiner at 320-308-5378 or Mark Schultz.