Southwest Minnesota, like the rest of the state, is in the midst of a significant population shift as baby boomers get older and jump up to the next higher age brackets. The most recent estimates from the U.S. Census Bureau show that those age 55 and over make up almost one-third (32.3 percent) of the total population in the region, an increase of 24.1 percent from 2000. With this aging of the population, there is a subsequent impact on the labor force. Currently, workers 55 and older make up 25.7 percent of the labor force, but will they become more engaged in the labor force than the current norms?

The rate of labor force participation falls sharply for people beyond age 64. Roughly 77 percent of workers between 55 and 64 are in the labor force, but less than a third of 65- to 74-year-olds remain in the labor force, and less than 7 percent of people over 75 years are in the labor force. However, the region has a higher participation rate for older workers than other parts of the state (Table 1).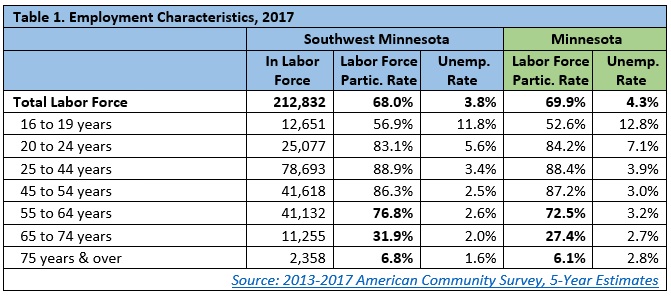 With a larger proportion of older people already in the region, as they continue to age, the labor force is projected to decline in the coming decades. Labor force projections from 2020 to 2030 show a predicted significant loss of residents between the ages of 55 to 64 equaling a decrease of about 10,860 workers, a drop of about 26.6 percent. In tandem, the number of labor force participants ages 65 and over are projected to increase by about 2,680, a jump of 16.1 percent. This is because people who are currently 55 to 64 years will be 65 and over in 10 years, so the change is from baby boomers aging from one part of the pyramid to another.
Despite the projected increase of the oldest workers, many will exit the labor force entirely. Without a bulging population of younger workers to replace them, Southwest Minnesota is expected to have 8,100 fewer workers by 2030. Essentially, this means more people will be in the oldest age group, but unless their labor force participation rates go upward rapidly, there won't be enough new workers to replace the retirees (Table 2).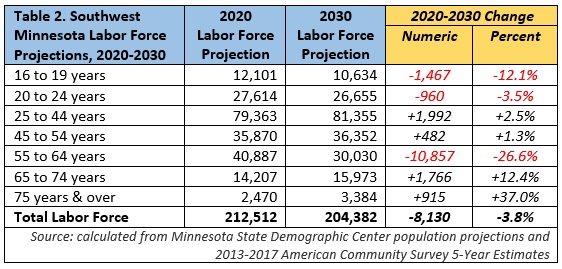 What are older workers currently doing in the workforce? According to
Longitudinal Employer Household Dynamic (LEHD) data from the U.S. Census Bureau
, 7 percent of Southwest Minnesota workers who are 65 years and older have been recently hired. 'Recently' is defined as being recently hired and not working for the same employer at any time in the previous year. Workers 65 and older transitioned employers, potentially from a different industry, at higher rates in Agriculture, Accommodation and Food Service, and Administrative Support and Waste Management – mostly in the Employment Services subsector which includes Temporary Staffing Agencies. Construction and Transportation also had slightly higher rates of newly hired workers who were 65 years or older.
Three different scenarios can contribute to an uptick in the percentages found in Figure 1:
A senior is hired who has not worked in the past year in the particular industry.
A senior is hired in the same industry, but has changed employers.
A senior is hired who has not worked in the last year or has never been employed.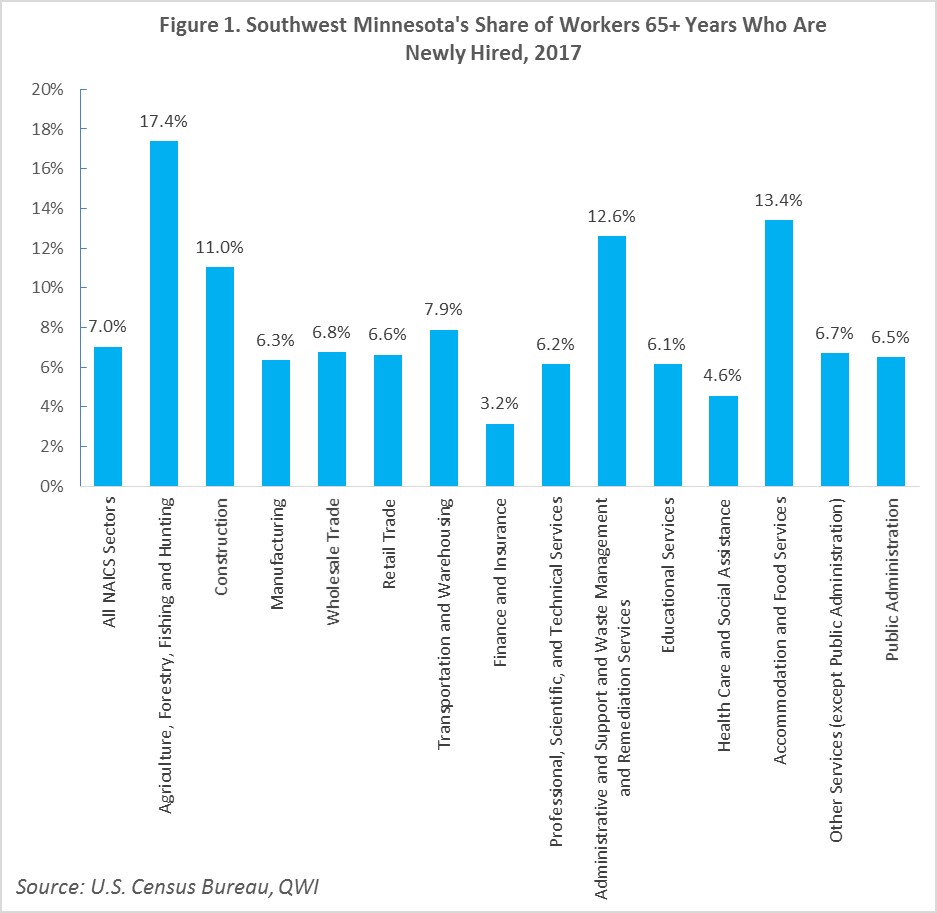 It's difficult to pinpoint why there are large shares of newly hired seniors in some of the industries in Figure 5. The industries with low percentages of senior workers who are newly hired is possibly more revealing. We know that seniors are not finding new employment en masse at industries with lower percentages. So while workers 65 years and older are more likely to work in Retail than their slightly younger coworkers, it appears that it would be unlikely that many are finding new careers in the Retail Trade industry.
It's certainly the case that some workers who have the means to retire simply won't for their own self-fulfillment, but the data suggest that the main driving factor of why most workers continue working in their golden years is the financial ability or inability to retire. Strategies and programs that aim to target this experienced pool of labor should keep in mind the motivation of older workers. How job opportunities appeal to retirees and/or older workers might depend mainly on their past wages.
For further discussion of the aging population and workforce in Southwest Minnesota, check out the full article in the March issue of Minnesota Employment Review.

For More Information
Contact Luke Greiner at 320-308-5378 or Mark Schultz.