Although the gap is narrowing, there are still slightly more males than females in the labor force in Southwest Minnesota. In 2016, males held about 53 percent of jobs, meaning the other 47 percent of workers were females. While the overall distribution is relatively equal, there are significant differences in what men and women do for work.

Men are much more likely to work in natural resources, construction, and maintenance occupations and production, transportation, and material moving occupations; women are much more likely to be employed in service, sales and office occupations (Table 1).

These gender differences become more obvious at a detailed level. According to data from the Bureau of Labor Statistics, 98 percent of speech-language pathologists are female; while 98 percent of truck mechanics and diesel engine specialists are male. Students and job seekers of either gender might see these male/female splits and feel discouraged from pursuing a career in these fields based on their gender, even if they have skills or interests in these areas.

Rather than limiting options, the Southwest/West Central Service Cooperative is hoping to encourage students to consider these nontraditional careers, stating that "People who choose careers that match their strengths experience much greater rewards and job satisfaction. Career planning should include considering all your options."

A nontraditional occupation is defined as any occupation in which women or men comprise less than 25 percent of the total workforce. In Southwest Minnesota there was wage or employment data on 71 occupations in which women held 75 percent or more of the jobs, and 120 careers where men made up more than 75 percent of the workforce.

Many of these occupations offer high wages, which may make them even more attractive for students and job seekers despite the traditional gender roles. In fact, seven of the top 10 nontraditional occupations for women earned over $20 per hour in Southwest Minnesota, as did six of the top 10 nontraditional jobs for men.

For example, women interested in becoming an electrical power-line installer and repairer could expect a median hourly wage of $36.45 per hour in the region; men who would consider being a dental hygienist could earn $32.86 per hour. Both of these occupations require a vocational award or an associate degree, which can be earned at community and technical colleges in the region. While almost all of the nontraditional occupations for women begin with a high school diploma and some on-the-job training or a vocational award, all but one of the nontraditional jobs for men require post-secondary education, including four that need a bachelor's degrees or higher (Table 2).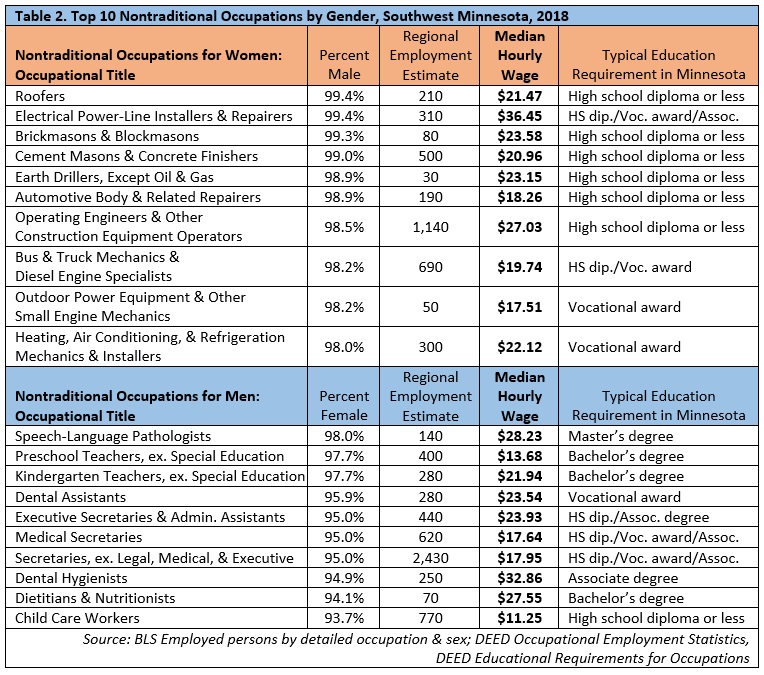 For More Information
Contact Luke Greiner at 320-308-5378 or Mark Schultz.