New data released in November showed that just ahead of Veterans Day, the employment situation for veterans in the United States has improved greatly. The overall unemployment rate for veterans dropped to 3.9 percent in October 2015, which was lower than the 4.7 percent rate for nonveterans (Table 1).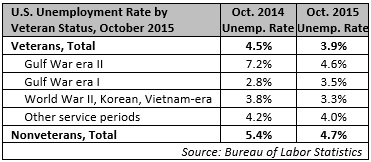 Minnesota has consistently had lower unemployment rates than the U.S. for both veterans and nonveterans. Nearly 29,500 veterans live in Southwest Minnesota, including over 15,000 who were actively participating in the labor force, according to data from the U.S. Census Bureau's American Community Survey. Unemployment rates were even lower for veterans in Southwest Minnesota than the state and nation.
Current or former military members, no matter the era of service, receive priority of service in all Minnesota WorkForce Centers across the state. From individual employment counseling, to assistance in all stages of job search, to direct referrals for job openings, to job training for disabled veterans, to helping convert military training to civilian credentials, WorkForce Centers offer a wide variety of specialized employment and training services to veterans. Specially trained Veterans employment representatives in WorkForce Centers assist veterans if they have been discharged or left active duty in the last three years; have significant issues finding or keeping a job; or have questions about benefits or other resources.
Companies interested in hiring veterans can also benefit from working with DEED's Veterans Employment Services. Veterans are trainable and adaptable, mature and self-confident, and can work under pressure in a team environment. Businesses can also qualify for hiring incentives and tax credits by hiring targeted workers, including some veterans. Employers can learn more about how to hire veterans by visiting DEED's Veterans Employment Services webpage.
For More Information
Contact Luke Greiner at 320-308-5378 or Mark Schultz.