Southwest Minnesota's landscape has changed over time, with wind turbines now protruding into the sky.
These turbines have also helped change the region's energy landscape, with employment in the electric power generation, transmission, and distribution sector expanding more than 13 percent in the last decade.
There were 54 businesses providing 817 jobs in power generation in the 23-county Southwest Minnesota planning region through the second quarter of 2014.
Demonstrating its power, the sector did not experience a decline during the recession (see Figure 1).
The electric power generation, transmission, and distribution sector relies more than some other sectors on an older workforce that is nearing retirement age, which will lead to more growth in hiring in the next decade. According to demographic data from our Quarterly Workforce Indicators (QWI) program, a little less than half (45.1 percent) of electric power generation workers in Southwest Minnesota were 45 years and over, including nearly 20 percent that were 55 to 64 years of age.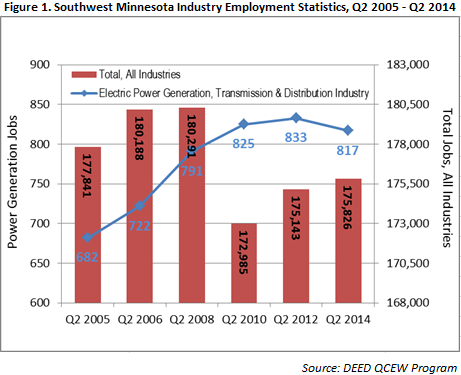 In addition to replacement openings and job growth, the high wages and wide range of career opportunities that require a wide range of technical skills within the sector might help attract job seekers. According to data from DEED's Occupational Employment Statistics (OES) program, nine of the top 10 occupation in the industry earn median wages above $45,000 per year (see Table 1).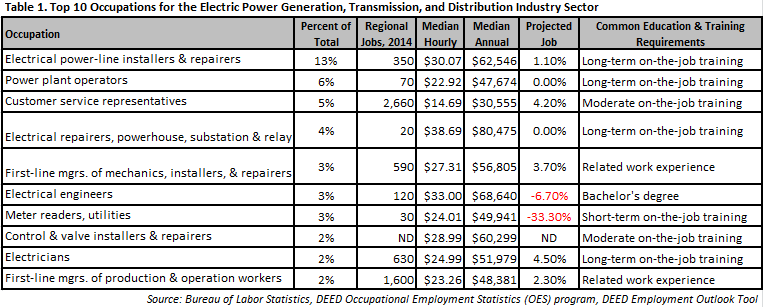 Seven of the top 10 occupations require on-the-job training, and the supervisory positions are gained through related work experience. Meter readers, which require just short-term on-the-job training, are expected to see the biggest decline in demand as they are replaced by technology. Still, they earn almost $50,000 a year. In contrast, electricians are expected to see about 4.5% job growth in the region in the next ten years, and also pay around $50,000 per year.
For More Information
Contact Luke Greiner at 320-308-5378 or Mark Schultz.