As the local economy has recovered and the unemployment rate has dropped below 3 percent across Southwest Minnesota, workers have become a hot commodity in the region.
Businesses in most industries have steadily increased their hiring activity, leading to more than 400 occupations showing some level of demand, including more than 250 that are in relatively high demand.
Despite employer concerns of a lack of qualified workers, more than half of the jobs in demand require a high school diploma or less, combined with some level of on-the-job training. About 15 percent need some college, a post-secondary vocational training, or an associate's degree. About one-third require a bachelor's degree or higher.
For job seekers wanting to jump right into the labor force, our Occupations in Demand tool provides a list of jobs by current local demand and educational requirements.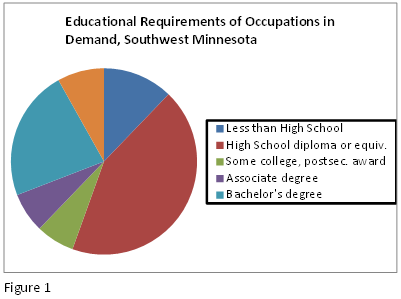 The Top 10 List
Ten occupations rank in the top 25 in each of the 23 counties that make up the Southwest Minnesota planning area (see Map 1). It's no surprise that half the jobs are in health care: nursing assistants, personal care aides, registered nurses, licensed practical nurses, and family and general practitioners.
With required education levels ranging from less than a high school diploma and short-term on-the-job training for personal care aides to medical degrees for family and general practitioners, these jobs run up and down the health care career ladder. Median hourly wages range from $10 to $11 for personal care aides and nursing assistants to $18 an hour for licensed practical nurses, nearly $30 an hour for registered nurses, and $80 or more for family and general practitioners.
Heavy and tractor-trailer truck drivers are the second-highest ranked job overall. These positions have the second-fastest projected growth rate and the second-most total openings in the next decade. They offer a median hourly wage above $18 an hour and require post-secondary training.
The Top 10 List also features four front-line occupations with lower education and training requirements and lower wages. Most combined food prep and serving worker and cashier positions require only short-term on-the-job training, and pay less than $9 per hour. Teller and office clerk positions pay between $11 and $13 an hour, but require at least a high school diploma.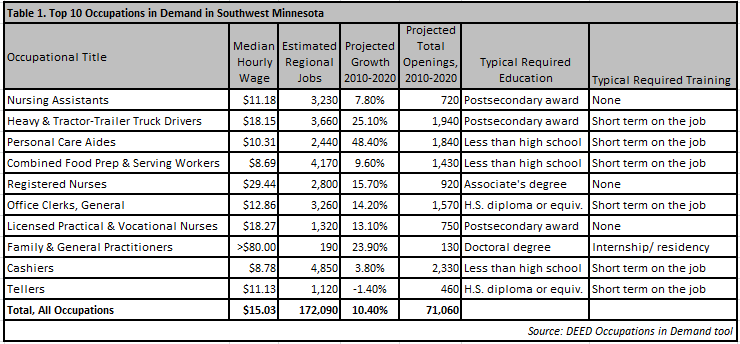 Check Out Job Openings
To see job openings in Southwest Minnesota, check out MinnesotaWorks.net, the state's no-fee online job bank.
For More Information
Contact Luke Greiner at 320-308-5378 or Mark Schultz.