As noted in last month's blog post, even with the promise of growing and on-going demand for hundreds of new jobs in the foreseeable future, the long-term care industry often struggles to attract new workers. Many of the occupations in demand in long-term care have lower educational and training requirements, offer lower wage and benefit packages, and consequently have higher turnover rates.
The largest occupations in long-term care are certified nursing assistants (CNAs), home health aides (HHAs), and personal care aides (PCAs). Combined, these three jobs account for nearly half of total employment in long-term care. HHAs and PCAs are typically trained on-the-job and earn a median hourly wage of around $10.50-$11.00 per hour in Southwest Minnesota. Nursing assistants require postsecondary vocational training, usually through a two- to five-week training program available on-site or at two-year colleges, and earn about $0.50 more per hour at the median (see Table 1).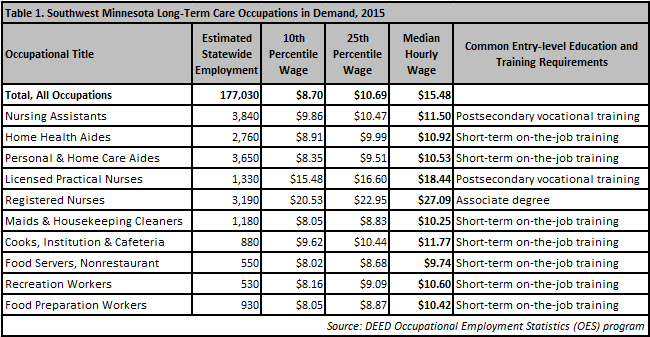 Many long-term care facilities also rely on other low-skill, low-wage workers such as maids and housekeeping cleaners; cafeteria cooks, food preparation workers, and food servers; and recreation workers, many of whom also earn between $8 and $12 per hour. Long-term care also uses some higher-level health care practitioners such as licensed practical nurses (LPNs), registered nurses (RNs), physical therapists (PTs), health care social workers, and medical and health services managers, which all require an associate degree or higher and tend to pay higher wages.
Because of the projected industry growth in the future, personal care aides are expected to be the fourth fastest growing job in the region, and to gain the most new jobs overall. Likewise, the region is expected to need nearly 1,400 home health aides over the next decade, giving it the second most new jobs and making it the 21st fastest growing occupation overall.
Registered nurses (RNs) are projected to be the ninth largest growing job in the region with 840 total openings over the next decade, both as new jobs are created and others become available from retirements. Likewise, LPNs are expected to have about 450 total openings in the next ten years, though with more replacement openings needing to be filled than new jobs established (see Table 2).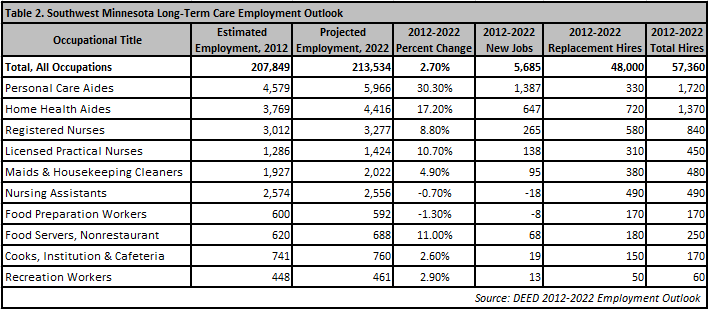 Ironically, the aging of the population is creating a challenge for the long-term care industry. As more and more of the population reaches retirement age and needs long-term care services, there are fewer workers to fill these jobs. Even as younger workers are coming into the health care workforce, many are continually working their way up the health care career ladder. For example, many nurses start their careers as nursing assistants, then gain additional education, training, certification, and licensure in order to move up to Licensed Practical or Registered Nurses.
For More Information
Contact Luke Greiner at 320-308-5378 or Mark Schultz.