According to the Minnesota Turkey Growers Association, Minnesota is the number one turkey producing and processing state in the US, raising approximately 45 million turkeys annually. Minnesota also ranked 10th in the nation for egg production and 20th in broiler production. Those numbers will likely be affected by Highly Pathogenic Avian Influenza (H5N1), specifically in Southwest Minnesota.
According to the Minnesota Board of Animal Health, the total number of birds affected by H5N1 in Minnesota had surpassed 9 million at 108 farms in 23 counties through the first week of June. Unfortunately, 13 of the 23 counties and 28 of the 108 farms affected were located in the Southwest Minnesota planning region, as shown in Table 1.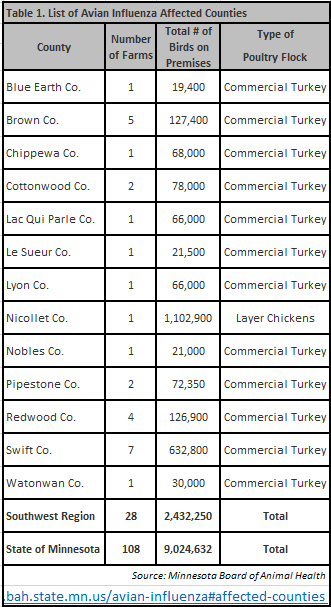 Southwest Minnesota was home to the second case reported in the state - at a commercial turkey flock in Lac Qui Parle County on March 27 - as well as the second to the last case - at a commercial turkey flock located in Brown County on June 5. No new cases have been reported since June 5.
Current guidance from the USDA controls the restocking efforts of infected facilities to prevent cyclical viral infections. After a farm receives confirmation of the virus, the entire site is tested and all birds associated with an infected barn are destroyed and then begin a minimum 28-day composting phase; including at least two heat cycles to completely destroy the virus. Following the composting stage, a 21-day cleaning and disinfecting phase is initiated.
Combined, that is at least 7 weeks. These time frames, however, are only a starting point and actual timeframes could be longer. All environmental tests must come back negative and all flocks within the control zone must be negative before restocking efforts can begin. Once a new flock is started, depending on desired processing weight, chickens reach slaughter size in 5 to 9 weeks and turkeys take between 16 and 22 weeks.
The immediate impact is felt by the commercial farms, but the induced and indirect effects will continue to be felt over a longer period of time. Southwest Minnesota has a much higher concentration of employment in poultry-related industries than other parts of the state - including more than one-fourth of the state's employment in poultry and egg production and nearly one-fifth of the state's total jobs in poultry processing. In sum, the region has over 400 business establishments providing nearly 14,000 jobs in animal production and food manufacturing, including 14 firms and 2,000 jobs directly in poultry production and processing (see Table 2).

While these industries represent those directly engaged in the poultry industry, many more industries such as wholesale trade, transportation and warehousing, and administrative support and waste management services will also be affected. The impact will be felt across Southwest Minnesota.
To help provide context, the University of Minnesota Extension did a report in May on the "Impact of Poultry and Egg Production Losses and Poultry Processing Losses Due to the Avian Influenza", which estimated "$113.6 million of poultry production has been lost in Minnesota (through May 11). This does not include the value of future lost production (due to the further spread of the disease or lost production due to barn disinfection and cleaning)."
For More Information
Contact Luke Greiner at 320-308-5378 or Mark Schultz.