Blessed with some of the best farmland in the entire United States, Southwest Minnesota is a major agriculture producer. In fact, agriculture is one of the most important industries in the region, with more than 19,000 farms producing nearly $8.4 billion in the market value of products sold in 2012, according to the U.S. Department of Agriculture.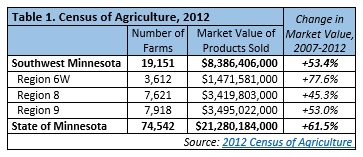 Southwest Minnesota had 25.7 percent of the state's farms, and 39.4 percent of the state's total market value, led by Blue Earth, Faribault, Lyon, Martin, Nobles, Redwood and Rock County – all among the top 20 counties in the state for the market value of products sold. Despite seeing a small decline in the number of farms, the region saw a 53 percent increase in the market value of products sold from 2007 to 2012, as many farms got bigger and commodity prices went up (Table 1).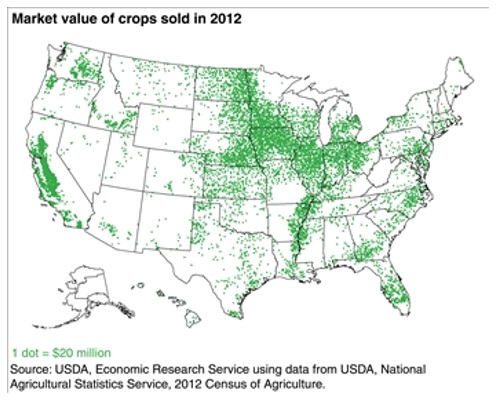 The average per farm market value of agricultural products sold rose to $285,479 in 2012, up from $162,738 in 2007. Interestingly, the number of farms with less than $25,000 in sales fell by almost 25 percent from 2007 to 2012, while the number of farms earning $1 million or more nearly doubled. And according to the most recent Minnesota AgriView newsletter from the USDA field office, "the production of Minnesota's field and miscellaneous crops was valued at $10.3 billion in 2016. This was a 5 percent increase from 2015."
The region's strength in agriculture has led to strength in several related industries, including food manufacturing, agricultural equipment manufacturing, and agriculture support activities. It has also created strong demand for agriculture and natural resources workers, literally spanning from A to Z. The list of related jobs on the Minnesota State CAREERwise Education site starts at Agriculture Equipment Operators and goes all the way to Zoologists and Wildlife Biologists, with over 100 occupations in between.
The largest occupations in demand in agriculture in Southwest Minnesota include:
For More Information
Contact Luke Greiner at 320-308-5378 or email luke.greiner@state.mn.us or Mark Schultz.