Although often overlooked as a STEM industry, health care obviously relies on science and technology. As the largest employing industry in the state and the second largest in Southwest Minnesota, health care needs a skilled workforce to provide quality services and care.
With just over 30,500 jobs at more than 1,000 different establishments, health care and social assistance provides more than 1 in every 6 jobs in the Southwest region. Job opportunities range from Acupuncturists to Veterinary Technologists, with a full list of 141 careers found on the Minnesota State CAREERwise site.
Demand is extremely high for most health science technology workers, especially in Southwest Minnesota. Employers in the health care and social assistance industry reported 1,438 job vacancies in the second quarter of 2016 – which was 22 percent of total vacancies in the region.
The jobs in highest need right now include:
But the region is also seeing acute levels of demand for specific careers like:
In addition to current demand, these occupations are expected to become even more prevalent in the next decade as health care services continue to grow in importance and employment in the region. According to DEED's Employment Outlook tool, the health care and social assistance industry is expected to add more than 3,100 jobs in Southwest Minnesota over the next decade, a 12 percent increase. That dwarfs the region's projected 1 percent growth overall.
Many of the fastest growing sectors in the region are expected to be in health care, including offices of other health practitioners, home health care services, and community care facilities for the elderly, which are all projected to grow more than 40 percent from 2014 to 2024. This rapid expansion will ensure that there are a wide variety of job opportunities available to students and job seekers in the region (Figure 1).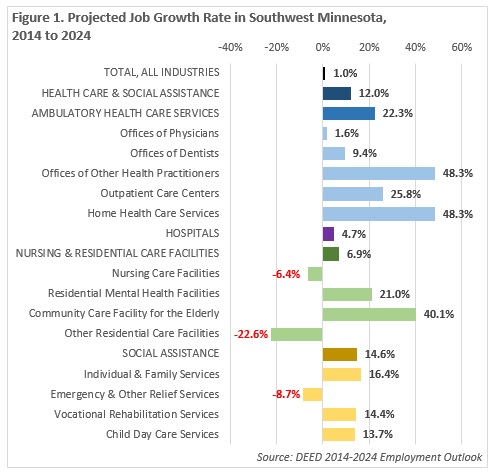 For more information about health science technology careers in Southwest Minnesota, contact Luke Greiner at 320-308-5378 or email luke.greiner@state.mn.us or Mark Schultz.