It's no surprise that Manufacturing is a dominant industry in the 11-county Southeast region of the state. With nearly 36,500 jobs in 2020, Manufacturing is the second largest industry sector in the region (behind Health Care and Social Assistance), making up 15.5% of the total number of jobs at 669 establishments and contributing over $2.4 billion dollars in payroll in 2020.
At that level, Southeast Minnesota accounts for 11.7% of the total Manufacturing jobs in the state, making it the third largest supplier of Manufacturing jobs behind the seven county Twin Cities metro and the 13-county Central region. Southeast is a major manufacturing center in the state, with high concentrations in Food Manufacturing, Computer & Electronic Product Manufacturing, Machinery Manufacturing, and Fabricated Metal Product Manufacturing.
It's also no surprise that Manufacturing typically sees large swings in employment during recession periods. This included large declines during the Great Recession, as well as a new series of job loss due to the COVID pandemic in 2020. From 2006 to 2010, Manufacturing lost over 6,400 jobs, for a drop of 15.8%, far outpacing the job decline across all industries which saw a decrease of 4.1%. Then from 2010 through 2019, Manufacturing enjoyed steady job growth, increasing by 11.2% with a gain of 3,877 jobs (Figure 1).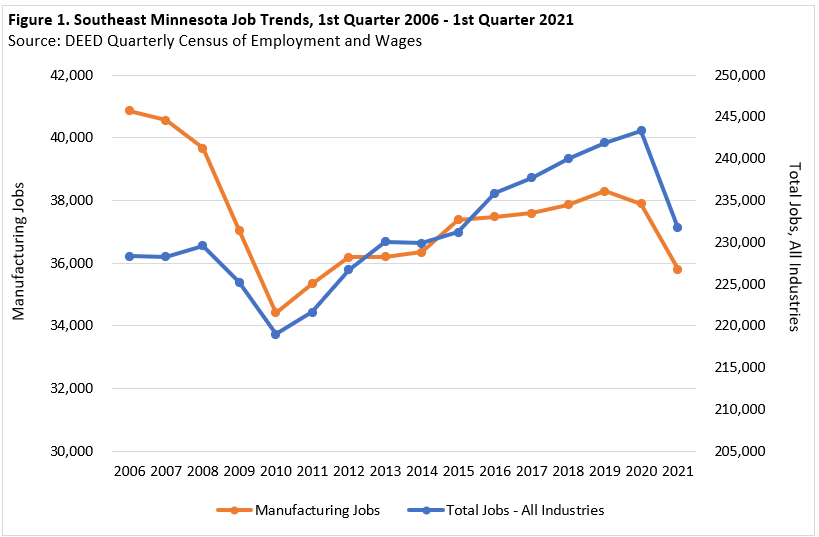 Unfortunately, COVID-19 reversed the long-standing trend toward job growth in the Manufacturing industry during the first part of the pandemic. From the first quarter of 2019 to the first quarter of 2021, the Manufacturing industry lost almost 2,500 jobs for a decrease of 6.5%, and while the total number of jobs across all industries also experienced loss, it was smaller proportionately with a drop of 4.2%. However, Manufacturing in the region has expanded nearly 6% so far this year, based on Current Employment Statistics for the Rochester metro area. From January to August, manufacturers have added almost 600 additional jobs, showing a strong bounceback.
With the exception of one, every sector in the Manufacturing industry lost jobs from the first quarter of 2019 to the first quarter of 2021. The one that grew, Plastics & Rubber Products Manufacturing, actually gained 161 jobs for an increase of 12.2%. Among the remaining 14 Manufacturing sectors that lost jobs, the largest numeric loss was seen in Nonmetallic Mineral Product Manufacturing, which lost 323 jobs for a decline of 11.8%. In addition, six sectors lost over 220 jobs including Computer & Electronic Product Manufacturing, Machinery Manufacturing, Miscellaneous Manufacturing, Food Manufacturing, Fabricated Metal Product Manufacturing, and Printing & Related Support Activities. However, the largest percent decline in jobs was experienced by Wood Product Manufacturing, which lost almost one-quarter of its jobs (Table 1).
Table 1. Southeast Minnesota 1st Quarter Manufacturing Job Changes (2019 and 2021)
Industry Sector
Qtr. 1 2019 Mfg. Jobs
Qtr. 1 2021 Mfg. Jobs
Numeric Change
Percent Change
Manufacturing
38,296
35,808
-2,488
-6.5%
Food Manufacturing
10,272
10,032
-240
-2.3%
Textile Product Mills
584
535
-49
-8.4%
Wood Product Manufacturing
679
514
-165
-24.3%
Paper Manufacturing
503
490
-13
-2.6%
Printing & Related Support Activities
1,303
1,080
-223
-17.1%
Chemical Manufacturing
1,338
1,302
-36
-2.7%
Plastics and Rubber Products Manufacturing
1,322
1,483
+161
+12.2%
Nonmetallic Mineral Product Manufacturing
2,747
2,424
-323
-11.8%
Primary Metal Manufacturing
466
393
-73
-15.7%
Fabricated Metal Product Manufacturing
4,153
3,917
-236
-5.7%
Machinery Manufacturing
4,394
4,126
-268
-6.1%
Computer & Electronic Product Manufacturing
4,944
4,647
-297
-6.0%
Transportation Equipment Manufacturing
606
507
-99
-16.3%
Furniture & Related Product Manufacturing
1,477
1,295
-182
-12.3%
Miscellaneous Manufacturing
1,655
1,401
-254
-15.3%
Source: DEED Quarterly Census of Employment and Wages
Even with the pandemic-fueled job loss experienced in Manufacturing, it still remains one of the most dominant industries in the Southeast region. And while new technologies will likely alter the inner workings of this industry in the future, it is also likely that the Manufacturing industry will retain its status as a top-employing industry in the region.
Manufacturing Month event information and resources for employers, educators, students and job seekers:
For More Information
Contact Mark Schultz.