There were over 6,100 people released from Minnesota Department of Corrections (DOC) facilities in 2020. Most of these individuals will likely face some collateral consequences related to their time spent incarcerated, including difficulties finding employment. In fact, according to Jeff Korzenik, Chief Investment Strategist for Fifth Third Bank in the Greater Chicago area and author of Untapped Talent: How Second Chance Hiring Works for Your Business and the Community, in 2018 the unemployment rate for individuals who had been incarcerated sat at "roughly 27%" (view the YouTube clip). To put that into perspective, the unemployment rate for the total labor force in Southeast Minnesota was 3.6% in 2018.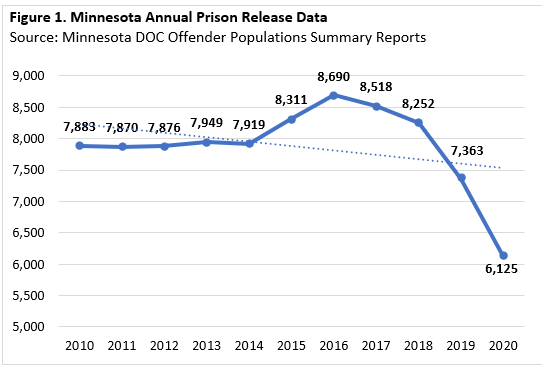 The number of individuals who have been released from DOC facilities has steadily decreased over the last four years according to data from the DOC 2021 Adult Prison Population Summary report (see Figure 1). While the pandemic is largely responsible for the sharp drop in releases from 2019 to 2020, we had to ask what caused the decline of releases from 2016 to 2019.
According to Grant Duwe, DOC Director of Research, the number of annual releases was heavily influenced by the number of individuals admitted to correctional facilities, which has seen declines over the last five years. According to Mr. Duwe, "changes in correctional policy and practice by the DOC and its community corrections partners are responsible for much of the reduction prior to COVID". More specifically, the DOC's revised policy to decrease the prevalence of readmissions due to technical violations of terms of probation while efforts were also made by DOC associates in community corrections to "limit technical violation revocations for both probation and supervised release".
It is without a doubt that Southeast Minnesota is in dire need of workers, with a fourth quarter 2020 jobseeker per vacancy ratio of 1.1-to-1 (meaning that there are only 11 unemployed individuals looking for work for every 10 openings) and an estimate of over 8,900 job openings in that quarter. Businesses are desperate for help, as can be seen by the plethora of online job postings, an abundance of "Help Wanted" and "Now Hiring" signs, as well as changes being made to hiring incentives such as hiring bonuses, benefits for part-time workers, flexible schedules and increased starting wages.
Given the number of job vacancies, the low jobseeker-per-vacancy ratio, and the struggle that many employers are experiencing trying to find workers, employers should consider hiring recently released individuals.
People who have served time in Minnesota's correctional facilities can become fantastic workers. In fact, the argument has been made that people with a criminal record can become better workers than those who haven't served hard time because they may be more loyal and appreciative of the opportunity to be employed. While the stigma of having been incarcerated in a correctional facility remains, hiring a person who has been released from prison can be a win-win situation for both the employer and the new employee.
For More Information
Contact Mark Schultz.