Recently, DEED's Job Vacancy Survey was updated to show estimates for the second quarter of 2019.  In all, employers in the region reported 13,672 job vacancies during this quarter, the second highest estimate ever recorded in the region. The highest estimate was in the fourth quarter of 2018 when the region reached 18,505 job openings. The current number of postings is 522 percent higher than the region had a decade ago, and 42 percent higher than the second quarter of last year (Figure 1).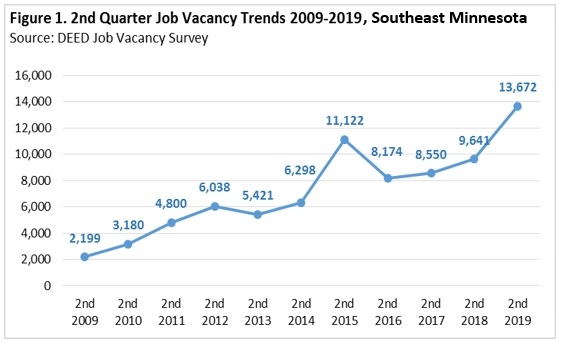 In total, Southeast Minnesota saw the second highest number of vacancies among the 13 Economic Development Regions (behind 86,044 vacancies in the Twin Cities metro), making up 9.3 percent of the total vacancies in the state. These vacancies have a diverse range of characteristics that may be suitable to a multitude of job seekers, including those without work experience, those looking for part-time work, those with post-secondary education, and those with certificates or licenses. This makes the Southeast region ripe with employment opportunities. 

The largest number of vacancies were in food preparation and serving related occupations, which made up 12 percent of the total vacancies in the region. Surprisingly, the second highest number of vacancies was for community and social service occupations, which accounted for just over 10 percent of the region's job openings. Traditionally, this occupational group has seen far fewer job openings; however, during this round of estimates there was a significant need for Social and Human Service Assistants, which made up 92 percent of the total vacancies in community and social service. 

The top five occupational groups with the highest number of job openings were: food preparation and serving related, community and social service, office and administrative support, sales and related, and personal care and service. They made up 45 percent of all job vacancies in the region.

In general, job openings with a higher percentage requiring post-secondary education had fewer openings, such as 100 percent of the four job vacancies in legal occupations and 96 percent of the 260 openings for architecture and engineering positions. The same held true when it came to vacancies that had a higher percentage of openings that required one or more years of experience, with larger percentages seen among those occupational groups that represented smaller portions of the total vacancies, such as in legal and management openings. 
Across all occupations, 38 percent of the job openings were part-time; only 13 percent were temporary or seasonal. While just over one-fifth required a post-secondary education, 37 percent required one or more years of experience, and 30 percent required a certificate or license. The highest percentage of part-time openings was seen among the community and social service job openings, which was again highly influenced by the need for so many social and human service assistants (Table 1).
For More Information
Contact Mark Schultz.