Architecture and engineering occupations are not a major player in the Southeast region, making up only 1.4 percent of the total employment across all occupations (Table 1). However, these small employment numbers do not negate the importance and value of architecture and engineering. 
Within the architecture and engineering occupational group, industrial engineers make up almost one-quarter (24.2 percent) of the employment; mechanical engineers and industrial engineering technicians make up an additional 15.6 percent. Wages for these occupations are nothing to scoff at either, with ranges from:
10th percentile wages from a low of $11.10 for electrical and electronic engineering technicians to a high of $36.23 for computer hardware engineers
Median wages from $21.58 for drafters (all other drafters not specifically outlined in the occupational data) to $52.66 for computer hardware engineers
90th percentile wages from $28.64 for drafters (all other drafters not specifically outlined in the occupational data) to $69.78 for computer hardware engineers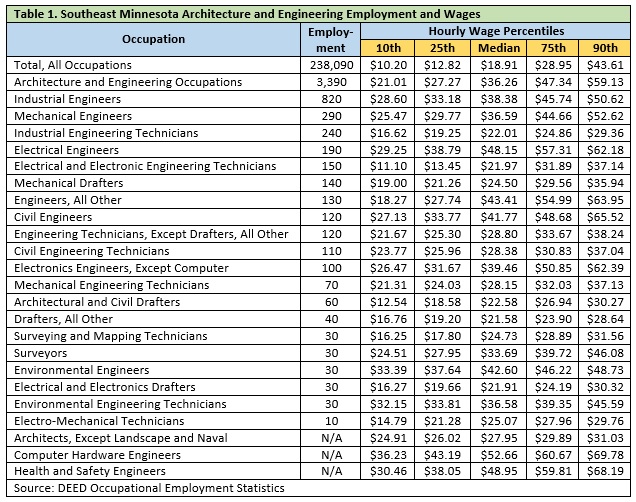 Currently, several architecture and engineering occupations are in moderate- to high-demand, including industrial engineers and industrial engineering technicians, both of which hold the highest demand indicator (5 stars) and reside in the top 100 in-demand occupations. Three engineering occupations are currently among the top 200, with 4-star indicators, and an additional five showing moderate-demand, are located among the top 300 with 3-star demand indicators.

Education is of utmost importance among these in-demand occupations, with all requiring post-secondary education; three require an associate degree and the remaining seven need a bachelor's degree.
As shown in Figure 1, the largest number of total projected openings are anticipated to be for industrial engineers, which makes up the largest percentage of employment and is in the highest demand. In all, there are projected to be just over 2,440 openings for architecture and engineering occupations in Southeast Minnesota (2016-2026) due to new jobs, retirements, and occupational transfers.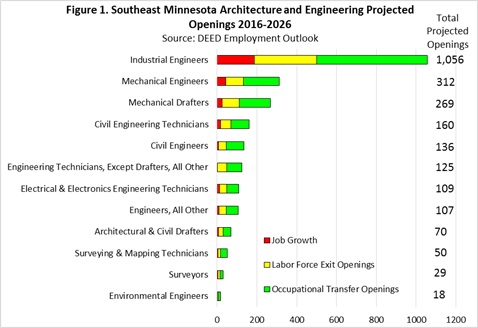 By the numbers, architecture and engineering jobs are only a small portion of the occupational landscape in Southeast Minnesota, representing only 1.4 percent of the total employment, 1.2 percent of the projected openings (2016-2026), and having only 10 specific occupations showing moderate to high demand. However, from industrial engineers who "design, develop, test, and evaluate integrated systems for managing industrial production processes" to architectural drafters who "prepare detailed drawings of architectural and structural features of buildings", Southeast Minnesota wouldn't be what it is today without architects, engineers, or architectural and engineering technicians or drafters.
For More Information
Contact Mark Schultz.