A plethora of part-time work is available in Southeast Minnesota, in a variety of industries. Data from DEED's Quarterly Employment Demographics program shows several sectors characterized by less than full-time hours, which may provide schedule flexibility, but also have a negative impact on a worker's ability to earn livable wages.
Nine industries had median quarterly hours worked below 400 hours in the first quarter of 2017, with a low seen in administrative support and waste management services, at 154 hours per quarter (Figure 1).  And while most of these industry sectors make up a minimal portion of all jobs in the Southeast region, two of these part-time sectors are significant job providers: Accommodation and food service comprises 7.7 percent and retail trade offers 11.2 percent of all regional jobs.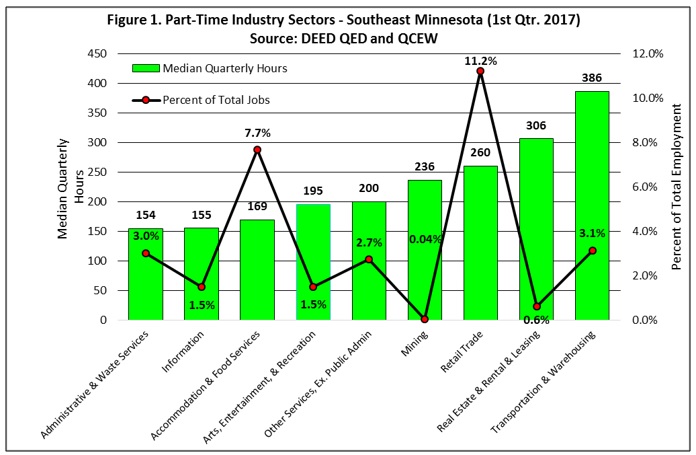 Most of these industry sectors suffer from a 'double whammy' of a combination of part-time hours along with relatively low median hourly wages – wages that fail to meet the threshold needed to meet basic cost of living needs. A single person living alone in Southwest Minnesota would need to earn $13.80 per hour in full-time employment to make the $28,704 required for a basic needs cost of living.
For a typical Minnesota family, comprised of two parents – one working full-time and one working part-time for a total of 60 hours per week – and one child, each parent needs to earn $16.17 per hour; while a single person with one child would find it necessary to earn an hourly wage of $22.34 per hour to meet the basic cost of living needs.
Table 1 shows that six of these industries have median wages above the requirement for a single person living alone; but typically don't offer enough hours. Only one of these part-time industry sectors (mining) had median wages high enough for a single parent with one child to meet basic needs cost of living. Only mining and transportation and warehousing paid median wages high enough for a typical family to meet these needs. However, as shown in Figure 1, these two industries make up a very minimal percentage of the total jobs in the region, with mining making up less than one percent and transportation and warehousing only equaling about 3.1 percent of the region's jobs.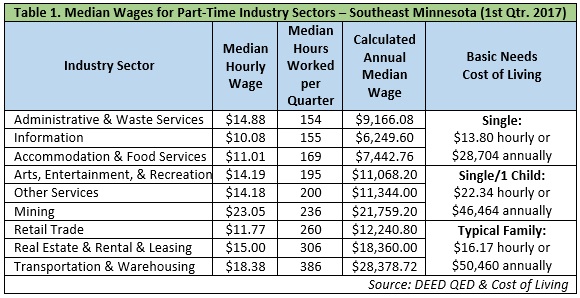 Though they may appear to offer much less than what is needed to meet basic cost of living needs, part-time work is not necessarily a negative thing. If part-time work is what they find available, many of the region's residents could find themselves having to work two jobs to:
meet their cost of living needs,
earn supplemental income to pay additional expenses, such as school loan payments, and/or
have extra discretionary income to spend on items/activities of interest, or
to save many for future expenses, such as a new car or furniture.
For More Information
Contact Mark Schultz.