A quick look at industry sectors in Southeast Minnesota provides interesting information based on four characteristics: number of jobs, number of establishments, total wages paid, and average weekly wages. Table 1, sorted highest to lowest based on number of jobs, shows that in the second quarter of 2015 the leading sectors for jobs are health care and social assistance, manufacturing, retail trade, educational services, and accommodation and food service.
Health care and social assistance provides one-quarter of the total employment with 60,089 jobs, followed by manufacturing (37,722 jobs), retail trade (26,716 jobs), educational services (20,044 jobs), accommodation and food services (18,801 jobs) and public administration (10,457 jobs). Combined, these six sectors account for 72 percent of the jobs in the Southeast region (Table 1).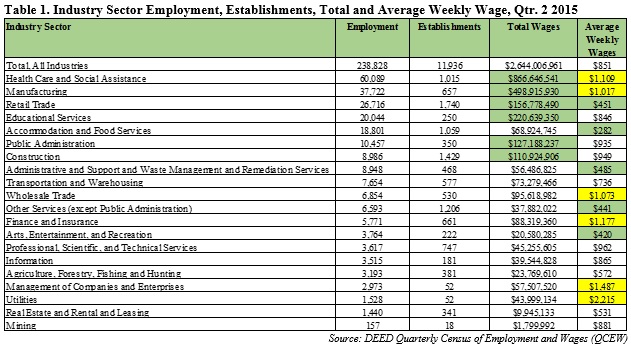 Although these industry sectors have the most jobs, they do not all have the largest number of establishments. While retail trade (which has the highest number of establishments with 1,740 stores), accommodation and food services, and health care and social assistance remain in the top six for number of establishments, the others drop out and are replaced with construction (1,429 firms), other services (1,206 firms) and professional, scientific, and technical services (747 firms). In all, these six sectors make up 61 percent of the total establishments in Southeast Minnesota (Table 2).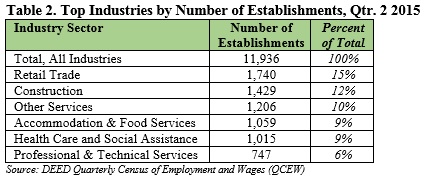 It is understandable that all but one of the industries with the highest number of jobs also makes up the highest percentage of total wages paid, with just accommodation and food services replaced by construction in the top six. This is more than likely due to the accommodation and food service industry traditionally paying low wages and being characterized by part-time work. Seventy-five percent of the vacancies in food preparation and serving occupations are part-time, according to DEED's Job Vacancy Survey from the second quarter of 2015. Still, these six industries make up 75 percent of the total payroll across all industries (Table 3).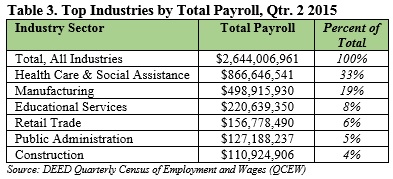 Average weekly wages are highly variable across sectors, with the highest wages in the utilities industry at $2,215 compared to the low of $282 in accommodation and food services. Many of these lower paying sectors, also including arts, entertainment and recreation ($420), other services ($441), and retail trade ($451), usually have more part-time jobs, which is a big reason for these low average weekly wages.  Conversely, the six highest paying industries are shown in Table 4.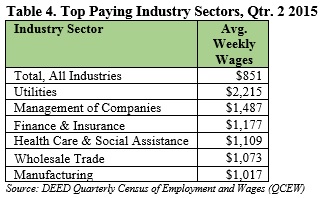 This is significant for job seekers. Knowing the industry sectors with the highest number of jobs is especially useful for those who are looking for a new job in their field or in a different field. Additionally, knowing the number of establishments in the region can help them in their research efforts to find companies in the industry they are looking for. Knowing average weekly wages can guide them to a career that will meet their cost of living needs. To find the cost of basic needs for various family sizes for each county and region in Minnesota, use the Cost of Living data tool.
For More Information
Contact Mark Schultz.