While the Information industry does not make up a significant portion of the total jobs in Southeast Minnesota, it has experienced a jump in jobs since the recession.
There were 177 establishments providing 3,562 jobs in the Information industry in Southeast Minnesota, accounting for 1.5 percent of total jobs, according to DEED's Quarterly Census of Employment and Wages.
That was up from 3,273 jobs in the third quarter of 2009, an increase of nearly 300 net new jobs. Within the industry, the most jobs appear in broadcasting (except Internet) – radio and television broadcasting and cable subscription services – with 1,461 jobs, followed by publishing (except Internet) – newspapers, magazines, periodicals, books, mailing lists, and directories – with 844 jobs. Those two sectors have been on divergent paths since the recession, with broadcasting adding 408 jobs and publishing losing 479 jobs.
The other four sectors in the Information industry have remained relatively stable in terms of the number of jobs. Included in the group are motion picture and sound recording (including movie theaters); telecommunications; data processing and hosting services (including ISPs); and other information services, with changes from 2007 to 2015 ranging from a loss of 30 in other information services to a gain of 121 in telecommunications (Figure 1).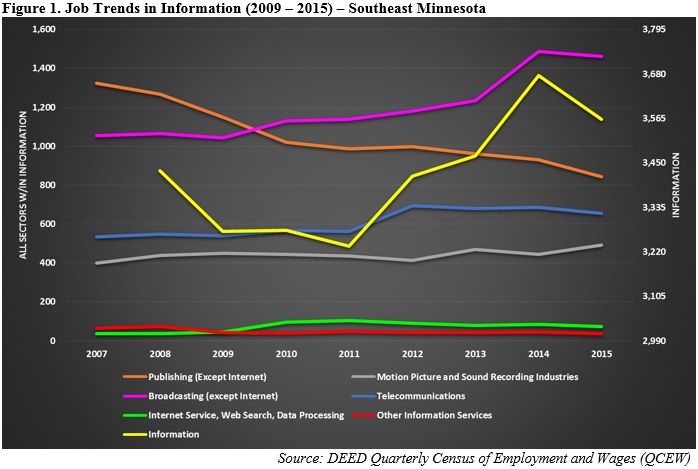 Though newspapers, radio, TV, telephone or Internet touch people nearly every day, many may be unaware of the regional economic impact and the job opportunities in these sectors. Table 1 contains a more detailed description of the Information industry and the occupations in demand in each sector.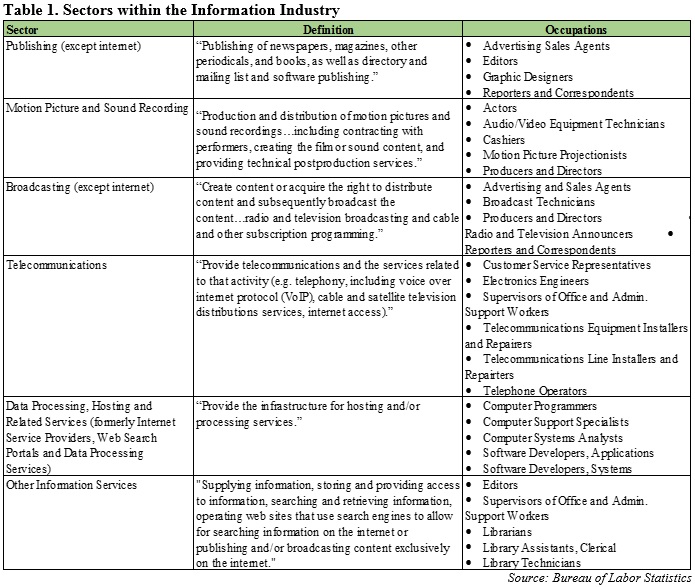 In general, wages in the information industry were similar to average wages across all industries, though it varied greatly by sector. Average weekly wages across all industries in the third quarter of 2015 were $910, compared to $857 in the Information industry. However, annual data from 2014 show that average weekly wages were $923 in Information, compared to $865 in the total of all industries. Additionally, some sectors within the industry paid even higher wages, including telecommunications, publishing, and other information services. Motion picture and sound recording paid just $412, less than half the total of all industries (Table 2).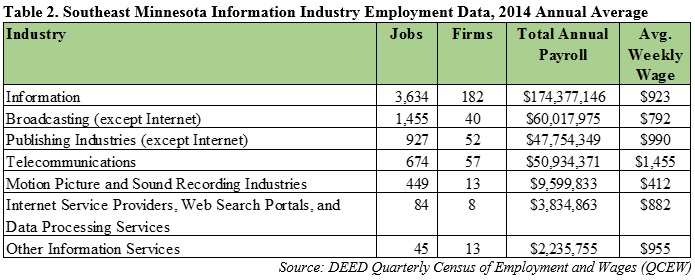 Despite the recent job growth, the outlook for the Information industry doesn't shout lights, camera, action! The industry is projected to drop in employment by 352 jobs from 2012 to 2022 in Southeast Minnesota and over 4,000 jobs statewide, according to DEED's Employment Outlook data.
In an article in the fedgazette, Ron Wirtz, Regional Outreach director for the Federal Reserve Bank of Minneapolis, writes, "The information industry is enmeshed in a long, downward trend, the result mostly of the rise of the Internet and the subsequent fall in demand for printed materials."
Thankfully, many jobs in the industry require skills that can be transferred to other industries. Some work duties for a telecommunications line installer and repairer include installing, connecting, testing or adjusting equipment, using electronic test equipment, inspecting test lines or cables, recording and analyzing test results and using hand tools and mechanical equipment; not to mention transferable skills such as dependability, attention to detail, cooperation, and self-control. These skills, as described by the Occupational Information Network (www.onetonline.org), may be in high demand for other occupations in different industries.
In fact, DEED's JobSTAT tool shows that telecommunications line installers and repairers could transition into jobs like control and valve installers and repairers (which pays $62,681 annually) or security and alarm systems installers (paying $48,383), among others. Job seekers can use JobSTAT to look for other opportunities related to their current skills.
For More Information
Contact Mark Schultz.