When considering maintenance and repair occupations, you might assume there are only a handful of different jobs working on buildings, machines, electronics, computers, or other things. However, in Southeast Minnesota there are over 25 different maintenance and repair occupations that collectively employ over 7,500 people. Many of the jobs are quite specific, such as medical equipment repairers, home appliance repairers, and locksmiths and safe repairers, to name a few.
Most of these occupations have relatively high wages (Table 1). In fact, only five of the installation, maintenance, and repair occupations have median hourly wages below the $17.77 median across all occupations. In addition, all but three of these occupations have median wages higher than the hourly wage needed to meet the basic cost of living in the Southeast region, currently $15.65 per hour.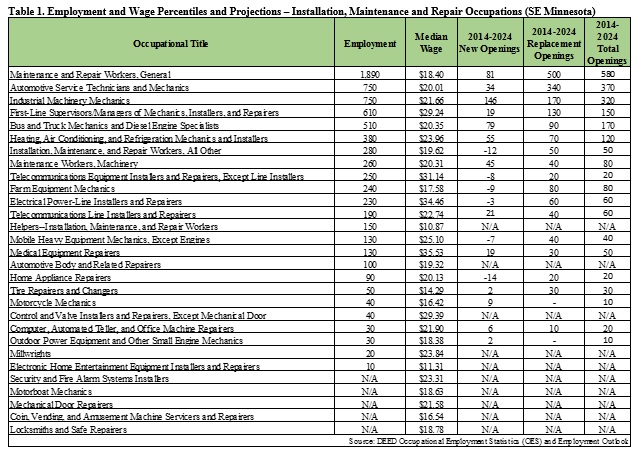 In addition to high wages, these occupations also have many openings in the region. Installation, maintenance and repair occupations are expected to grow by 5.5 percent from 2014 to 2024, which equals 500 new jobs created in Southeast Minnesota (Table 1). Furthermore, the region is projected to need approximately 2,080 people to replace existing workers who leave their installation, maintenance, and repair jobs over this same time period, either due to retirements or career changes.
But the openings aren't just available in the future – they are available right now. According to DEED's Job Vacancy Survey, there are currently 119 vacancies for installation, maintenance and repair workers in the Southeast region. This includes almost 50 openings for other installation, maintenance, and repair occupations such as machinery maintenance workers and industrial machinery mechanics; as well as almost 40 postings for electrical and electronic equipment mechanics installers and repairers, 35 of which are for telecommunications equipment installers and repairers. There were also 30 openings for vehicle and mobile equipment mechanics, installers and repairers, and three openings for supervisors. Over one-third of these openings require post-secondary education or a certificate or license, while almost one-half require a year or more of experience (Table 2). Just 19 percent of these are part-time vacancies and another 11 percent are temporary or seasonal.

While there are many technical skills that individuals who currently occupy or are looking for jobs in installation, maintenance and repair need, a wide variety of soft skills are also required. The technical, or hard skills needed include systems and operations analysis, writing, mathematics, and troubleshooting (Figure 1). However, hard skills alone do not make for a solid installation, maintenance and repair worker. The hard skills can be learned through coursework and experience; soft skills such as social perceptiveness, time management, and active listening are developed over time, and not everyone can develop them easily. Job seekers looking to become successful installation, maintenance, and repair workers will need a well-rounded set of skills.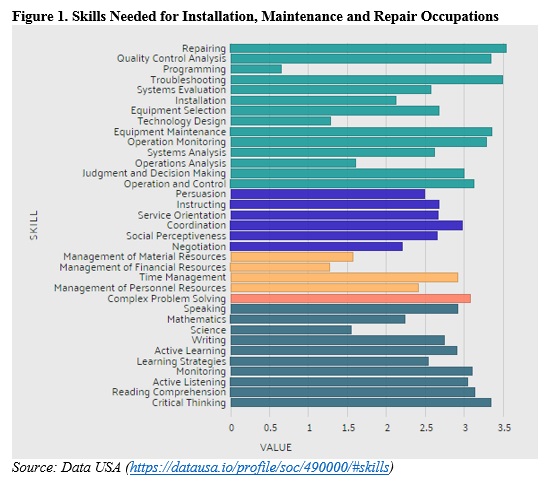 For More Information
Contact Mark Schultz.