With all of the farms in the region, Farm and Home Management Advisors are nearly 10 times as concentrated in Northwest Minnesota as the rest of the state; while Farmers, Ranchers, and Other Agricultural Managers and First-line Supervisors of Farming and Forestry Workers were five times more concentrated in the region.

Other occupations more likely to be found in Northwest Minnesota than the rest of the state, include:

These unique concentrations are identified through the use of location quotients, based on newly released 2019 data from the Occupational Employment Statistics program. By comparing each occupation's share of regional employment to the state concentration, location quotients show whether occupations are more or less likely to be located in the region than the state. A location quotient of 2.0 indicates that an occupation accounts for twice the share of employment in the region than it does statewide, whereas a location quotient of 0.5 indicates the area's concentration is half the statewide share. 

The region's list of occupations with the highest location quotients contain obvious areas of strength such as agriculture, forestry, and natural resources, but also some surprises. Northwest Minnesota has a strong concentration of protective service workers, including:

Several production occupations also make the list due to the region's unique manufacturing base. They include:

Using data from DEED's Occupational Employment Statistics program, DEED created an interactive visualization that provides various looks at jobs with the highest location quotients in every region in the state, including Northwest Minnesota (Figure 1).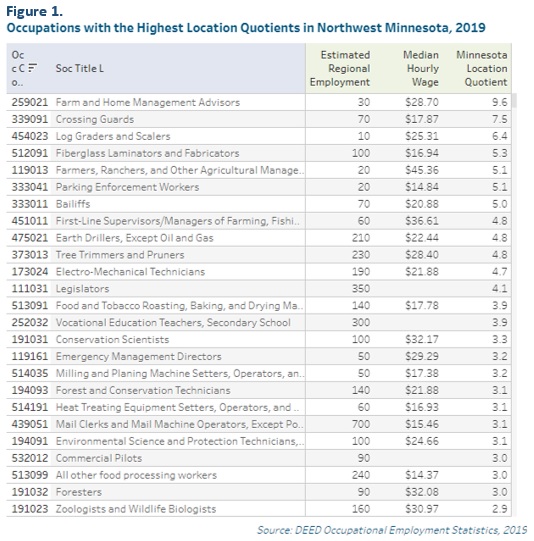 For More Information

Contact Cameron Macht at 320-441-6596.