Northwest Minnesota's economy is thriving, with record employment levels and unprecedented numbers of job vacancies. Northwest is a great place to work, but according to the U.S. Census Bureau's OnTheMap tool, the region is actually a net exporter of labor, having fewer jobs than available workers. In 2015, 189,191 workers both lived and worked in Northwest, while another 32,545 workers drove into the region for work. This is compared to 68,686 workers who lived in the region but drove to outside areas for work (Figure 1).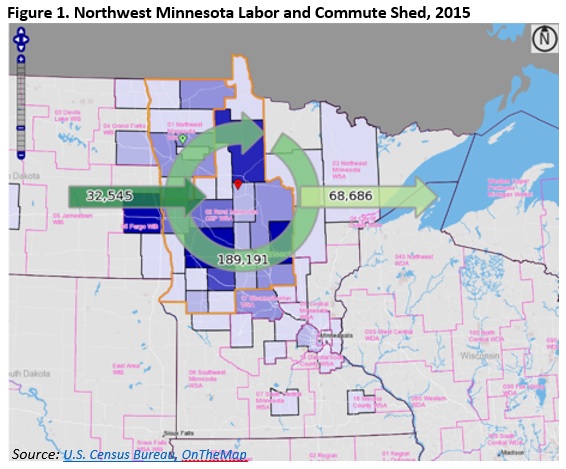 According to new estimates from the U.S. Census Bureau, the vast majority – 69 percent – of residents in the region both live and work in the same county. That is a higher percentage in comparison to the state. However, close proximity to both the Fargo and Grand Forks metropolitan areas draws a relatively large number of workers across the state border, where Northwest also has a higher percentage than the state (Figure 2).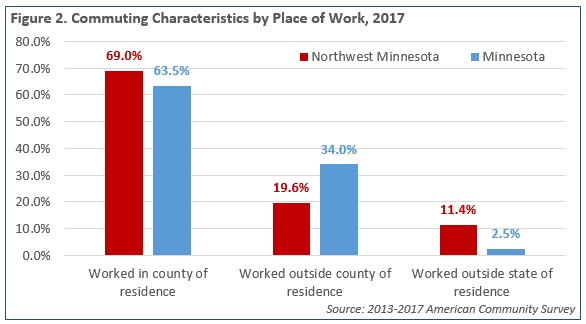 Working close to home led to relatively short travel times to work, including nearly 60 percent of workers who commuted less than 20 minutes. The average travel time to work in Northwest Minnesota was 20.6 minutes, nearly three minutes shorter than the state as a whole (Figure 3).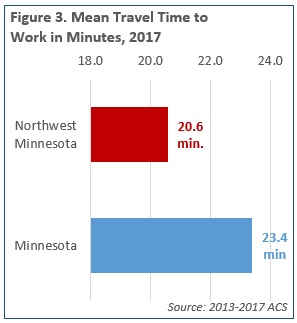 For More Information
Contact Cameron Macht at 320-441-6596.