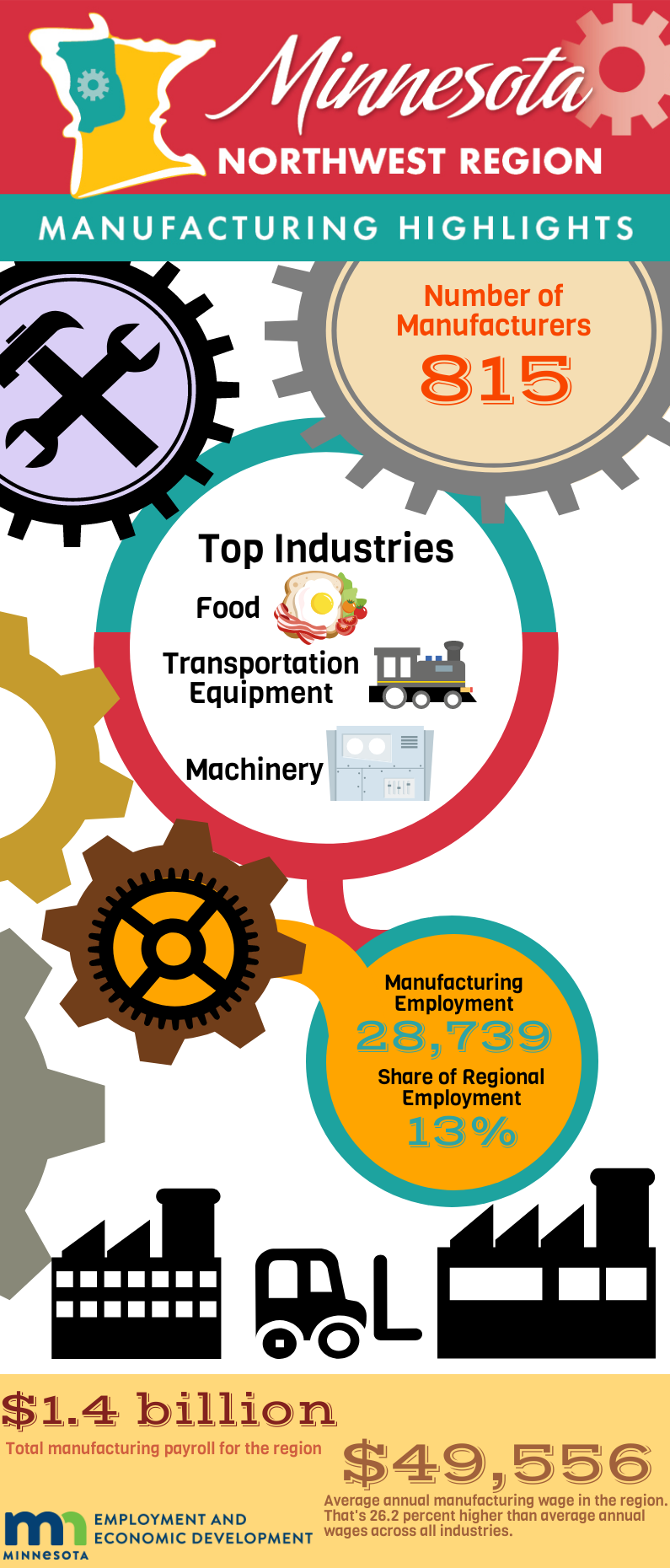 With 28,739 jobs at 815 establishments, manufacturing is the second largest employing industry in the 26-county Northwest Minnesota planning region, just behind health care and social assistance. Manufacturing accounts for 13.0 percent of total employment in Northwest, almost 2 percent more concentrated than in the state as a whole, where 11.2 percent of total jobs are in manufacturing.
Northwest Minnesota's economy has had substantial job growth from 2012 to 2017, adding 10,642 jobs overall, including 1,432 net new jobs in manufacturing. As such, manufacturing added the highest number of jobs of any regional industry over the last five years, and accounted for 13.5 percent of total regional growth in that time. However, the region has not seen a return to the number of manufacturing jobs lost during the recession, which exceeded 30,000 jobs as recently as 2005, before dropping as low as 25,413 jobs in 2010.
With 6,048 jobs, the largest subsector in Northwest is food manufacturing, followed by transportation equipment manufacturing, machinery manufacturing, fabricated metal product manufacturing, and wood product manufacturing which each had between 3,400 and 4,100 jobs. The region also had at least 1,000 jobs in nonmetallic mineral product manufacturing and printed and related activities; and over 900 jobs in plastics and rubber products manufacturing and computer and electronic product manufacturing.
Machinery manufacturing led regional job growth in Northwest Minnesota from 2012 to 2017, adding 578 net new jobs. Miscellaneous manufacturing also added over 200 jobs; and nonmetallic mineral product, chemical, and food manufacturing also added over 150 jobs over the five-year period. Only two manufacturing subsectors in Northwest Minnesota lost jobs from 2012 to 2017, with fabricated metal product manufacturing and transportation equipment manufacturing suffering the largest losses (Figure 1).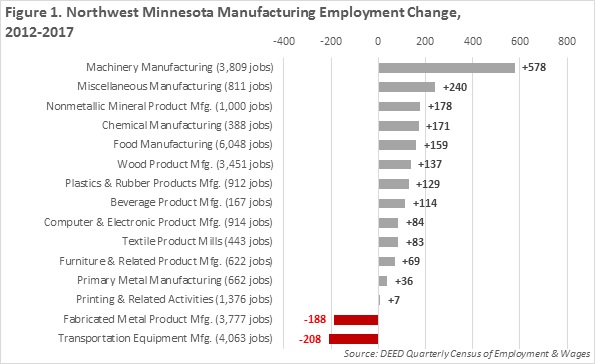 Northwest Minnesota is home to about 7.8 percent of total employment in the state, but over 30 percent of the state's jobs in transportation equipment manufacturing and wood product manufacturing, have location quotients of 4.9 and 3.9, respectively. Textile product mills also has a location quotient above 2.0. These results suggest a regional competitive advantage in each of these subsectors. Northwest Minnesota also shows slightly higher concentrations of jobs in food manufacturing, machinery manufacturing, primary metal manufacturing, nonmetallic mineral product manufacturing, and fabricated metal product manufacturing.
One of the highest paying industries in the region, manufacturing payroll surpassed $1.4 billion in 2017, accounting for 16.4 percent of total payroll in Northwest Minnesota. Average annual wages in manufacturing were $49,556 in 2017, which was over $10,000 and 26 percent higher than average annual wages across the total of all regional industries. Manufacturing wages increased 4.3 percent over the past year, compared to a 3.4 percent wage increase overall from 2016 to 2017. However, manufacturing wages haven't grown as fast over the past five years, rising 13.5 percent from 2012 to 2017, which was shy of the 16.3 percent regional growth rate across all industries.
For More Information
Contact Chet Bodin.