The tight labor market in Greater Minnesota is leading to high demand for workers in both skilled and unskilled positions. To address this need, Central Lakes College (CLC), located in Brainerd and Staples, is working with surrounding communities and employers to train and place workers from all backgrounds. From recent high school graduates to those making a career transition, the programs at CLC are putting people to work at a high rate, and doing so in leading regional industries.
According to data from DEED's Graduate Employment Outcomes tool, CLC awarded over 950 students with a post-secondary award in 2014. Three years later, nearly 80 percent of these graduates were working in Minnesota, half of whom were employed in Northwest Minnesota. In addition to those who completed their general studies at Central Lakes, many obtained technical skills that are highly sought after by employers in health care, manufacturing and construction (Table 1).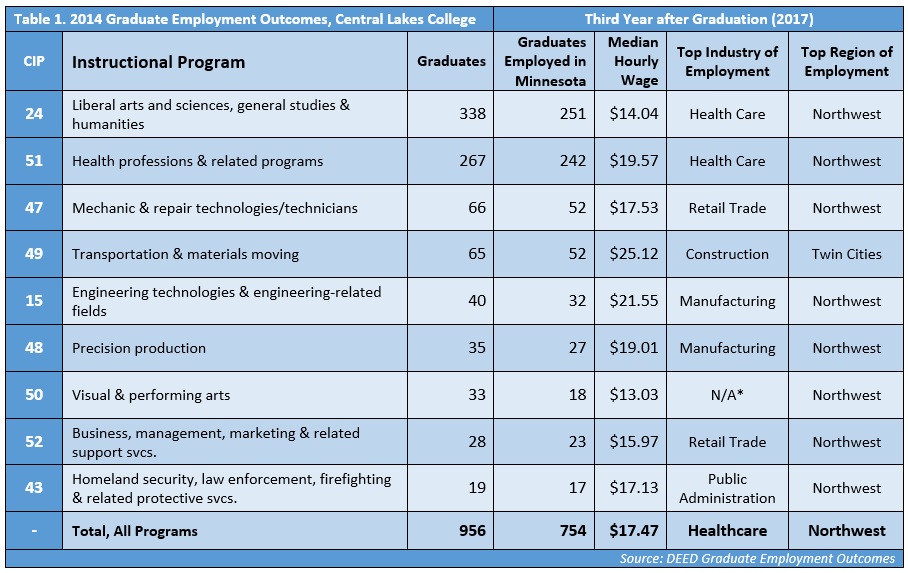 A great example is how CLC paves the way to work in the health care industry, benefitting both job seekers and employers alike. About one-third of CLC graduates turned their education into careers in healthcare, the largest industry in terms of employment in Northwest.
By 2017, the median hourly wage of all working graduates from 2014 was $17.47. This statistic alone speaks volumes about the value of Central Lakes College to those seeking a living wage in Economic Development Region 5 (EDR 5-North Central). According to DEED's Cost of Living Tool, an average family needs to earn $15.90 per hour (with one full-time worker and one part-time worker) to meet basic living expenses in EDR 5-North Central (Table 2). In fact, the median income of graduates from Central Lakes College is higher than the cost of living for an average family in 11 of the 13 economic development regions, including every region in Northwest Minnesota.

In addition, the median hourly wage of CLC graduates was higher than the median wage for all occupations in Northwest Minnesota ($17.38) and EDR 5- North Central ($16.75). That means that, within a few years, recent graduates from CLC are more than likely to earn above the regional median wage. These are the type of results that convince workers and families to plant their roots in Northwest Minnesota, and put the 'community' in community college.
For More Information
Contact Chet Bodin at 218-825-2183.