The number of job vacancies has tripled since 2010 and continues to grow, but the composition has changed in many occupation groups. Many Northwest employers are adjusting their job requirements and wage levels to fill regional openings.
According to DEED's Job Vacancy Survey, employers reported more job openings in the second half of 2016 than any fourth quarter survey on record, with an increase of over 6,000 vacancies since the same period in 2010. However, while vacancies increased in every job category since 2010, the same cannot be said over the past year. Despite an overall increase of 731 job vacancies between the fourth quarter surveys of 2015 and 2016, there were over 50 less vacancies in education, training and library occupations; health care support; food preparation and serving; construction and extraction; and installation, maintenance and repair. On the positive side, the fourth quarter 2016 report showed over a hundred more openings in health care practitioner occupations; building and grounds cleaning; personal care and service; and sales occupations (Table 1).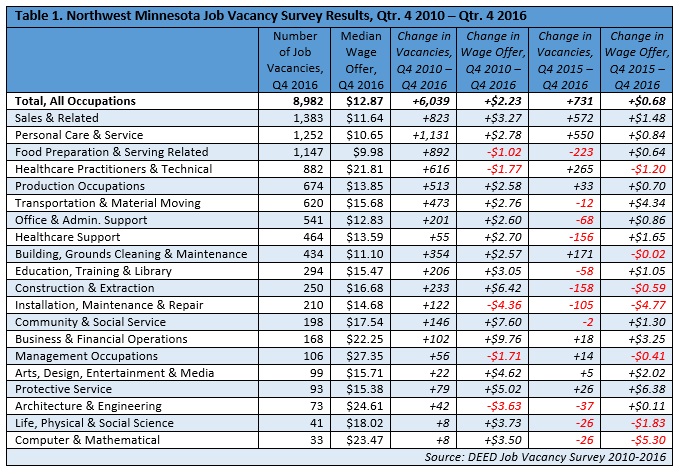 In some cases, the makeup of job openings has shifted, creating changes in wage offers and requirements. Health Care Practitioners and Technical Occupations are a good example. While the number of these vacancies increased between the fourth quarters of 2015 and 2016, the majority of them were in technical jobs, such as LPNs, EMTs and paramedics.
Median wage offers actually went up over time for both technicians and practitioners; but the huge jump in technician openings, which earn lower wages than practitioner jobs, made the median wage appear to go down overall.
In the last year, the largest median wage offer increase was for protective service jobs, thanks to the addition of law enforcement vacancies that weren't posted in previous years. The median offer for transportation and material moving occupations also increased significantly in 2016, where job offers for motor vehicle operators were up by over $9.00 per hour since the prior year.
Some employers have adjusted job requirements to attract applicants. While the percentage of vacancies requiring related work experience has mostly stayed the same since 2010, the percentage of vacancies requiring post-secondary education has been declining.
For example, employers hiring for life, physical and social science occupations required a bachelor's degree or higher less often in 2016 than the year before, seeking applicants with no more than a high school degree much more often. Since the recession, management vacancies have followed the same trend, requiring a bachelor's degree or higher 31 percent less often today than in 2010. Conversely, employers are now looking for personal care and service workers with an associate degree or vocational training more often in 2016.
Overall, job requirements for both experience and post-secondary education decreased by about 10 percent since 2010, with some variation throughout the years (Chart 1).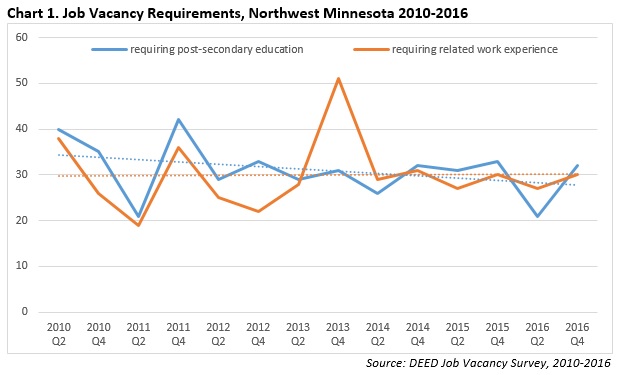 For More Information
Contact Chet Bodin at 218-825-2183 or email chet.bodin@state.mn.us.