In appreciation of those who have served our military and their families, this month's Local Look blogpost focuses on veterans in the region and resources available to assist them in gaining successful employment. According to the American Community Survey, there are 26,196 veterans in the seven-county Arrowhead region, or 8.2 percent of the 319,438 veterans in the state. St. Louis County has just over 15,000 veterans or 57.5 percent of all veterans in Northeast Minnesota.
The majority (55.8%) of veterans in the region are 65 years and older; this majority holds true at the state level (54.2%) as well. About one in every five veterans in the region is 55 to 64 years old with about 5,500 people, followed by about 18 percent of veterans between the ages of 35 to 54 years. The smallest cohort of veterans are 18 to 34 years of age, comprising just 5 percent of the total veteran population in the region. The age profile of veterans matches with the era of service data we presented last year, in that Vietnam veterans are the most common in the region and state (Table 1).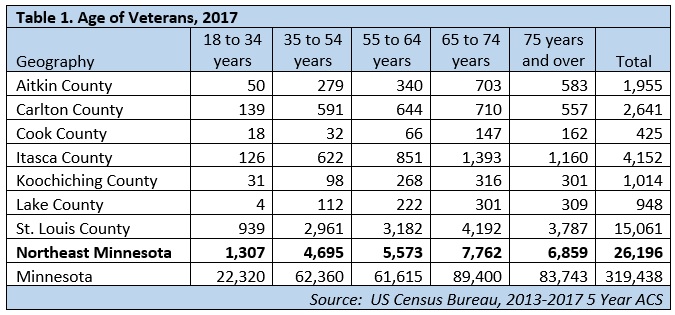 Veterans in the Duluth Metropolitan Statistical Area – which includes St. Louis and Carlton counties in Minnesota and Douglas County in Wisconsin – have different educational attainment levels than do non-veterans as veterans are more likely to have been just a high school graduate and less likely to have a bachelor's degree than the general public. However, veterans earn substantial education benefits that allow for service members and their qualified family members to receive money to cover all or some of the costs of school or training through the GI Bill, and particularly the Post-9/11 GI Bill. While these benefits assist the transition back to civilian life for service members, they also help recruit and retain the next generation of veterans.
Likewise, veterans between the ages of 18 and 64 in the region are less likely to participate in the labor force than non-veterans as the labor force participation rate is 70.1 percent compared to 77.6 percent. Along with lower participation rates, veterans have higher unemployment rates with 6.6 percent of veterans unemployed compared to a 4.8 percent rate for non-veterans. However, since the Great Recession, the labor force participation rate for veterans has been increasing while the unemployment rate has decreased.
Despite the educational and labor force participation disparities between veterans and non-veterans, veterans are less likely to be in poverty and have greater incomes than non-veterans. The median income for veterans was $35,806, about $9,500 more than non-veterans in the Duluth MSA while the poverty rate is just 8.1 percent for veterans, nearly half of the 15.0 percent poverty rate for non-veterans. A reason for the discrepancy between employment status and poverty level could be that veterans have a nearly 30 percent disability rate, compared to just 15.2 percent for non-veterans. A veteran with a disability that was acquired during time of service is eligible for veteran disability benefits which can help prevent veterans from living in a poverty even if they are unable to participate in the labor market (Table 2).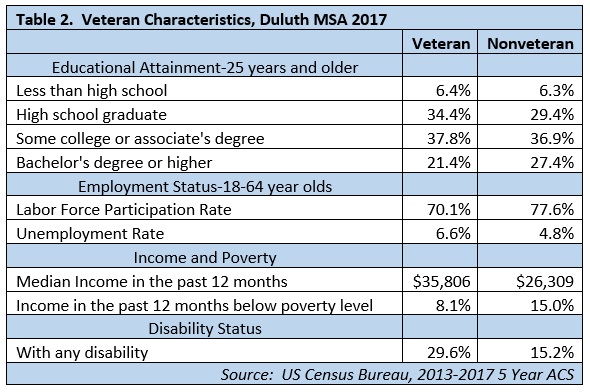 Employment Resources for Veterans
If you are a veteran and seeking employment, the following steps can help:
For More Information
Contact Erik White at 218-333-8200.