More than 27,000 immigrants live in Central Minnesota, accounting for roughly 3.7% of the entire population. This is a substantially smaller share than statewide where 8.2% of the population is foreign-born. Fortunately, Central Minnesota is still experiencing population growth through natural increases (more births than deaths), positive domestic in-migration, and positive net international migration. All of these components boost the population in the region and provide positive labor force growth.
Table 1. Place of Birth for the Foreign Born Population, 2020
Central Minnesota
Change from 2010-2020
Minnesota
Change from 2010-2020
Number
Percent
Number
Percent
Number
Percent
Total, Foreign-born Population
27,176
3.7%
9,278
51.8%
470,687
8.2%
28.3%
Europe
2,681
9.9%
-265
-9.0%
45,867
9.7%
1.9%
Asia
6,618
24.4%
1,537
30.2%
174,828
37.1%
28.5%
Africa
9,248
34.0%
6,872
289.2%
125,135
26.6%
78.2%
Oceania
52
0.2%
-17
-24.6%
1,846
0.4%
15.4%
Americas
8,577
31.6%
1,151
15.5%
123,011
26.1%
7.8%
Americas: - Latin America
7,481
87.2%
904
13.7%
111,190
90.4%
9.6%
Americas: - Northern America
1,096
12.8%
247
29.1%
11,821
9.6%
-6.3%
Source: U.S. Census Bureau, 2016-2020 American Community Survey
While immigrants help boost the region's population, the immigrant population in Central Minnesota is unique compared to Minnesota as a whole, with a far smaller share from Asia and a larger share from both Africa and Latin America. The share of immigrants from Europe is roughly the same as the rate found statewide, representing one-in-ten immigrants in the region (see Table 1).
Central Minnesota's immigrant population has different skill levels compared to the domestic population as measured by formal education and English proficiency. Just 7.3% of the region's total population aged 25 and older has not attained a high school diploma, compared to 29% of immigrants who are 25 years or older. A high school diploma/GED is necessary for most jobs, including many entry level openings. Another important employment skill is mastering the English language. In Central Minnesota, 19% of immigrants do not speak English well or at all. Both the lack of a high school diploma and the inability to speak English is a barrier to many employment opportunities.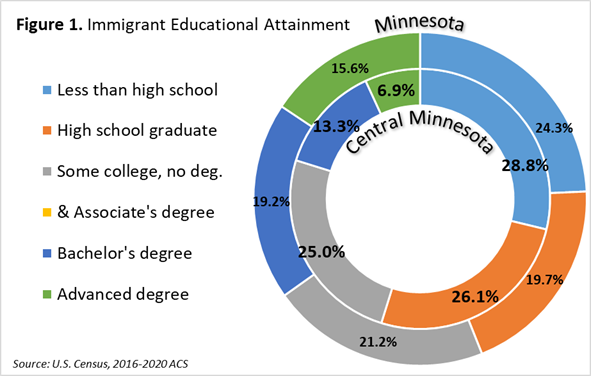 Immigrants come to Central Minnesota from all over the world with different skills, languages and cultures and they are embraced by many employers. However, immigrants without a high school diploma or English proficiency may find the doors closed to even entry-level employment opportunities. Fortunately, Leading CareerForce partners Career Solutions and Central Minnesota Jobs and Training Services provide excellent programs that can help immigrants in Central Minnesota attain these crucial skills and find a promising career path.
For More Information
Contact Luke Greiner at 320-308-5378.