The Construction industry is booming in Central Minnesota. In fact, in the past five years, Construction employers added more jobs than all other industries combined. The reason behind that impressive statistic is that Construction firms maintained employment in 2020 while nearly every other industry shed jobs due to the pandemic recession.
Construction has been on the rise for years since being pummeled during the Great Recession. Construction firms in Central Minnesota benefit from being able to serve the Twin Cities metro area when times are good, while also having a diverse agriculture economy to help offset economic business cycles.
With low mortgage interest rates, home buyers and renovators continued to provide demand for construction projects, which was amplified even more with lots of employees working from home due to the pandemic. Many of these homebound homeowners realized the need to tackle remodeling projects they didn't see before spending so much time at home. In addition, more first time home buyers wanted a home of their own. While the number of jobs in almost all other industries were falling, construction employment held steady as demand for construction held steady. Construction employment was down just slightly from the first quarter of 2020 to the first quarter of 2021 (-0.5%).
Figure 1 illustrates how Construction followed a similar trend to the broad regional economy until 2020, when the trend diverged. The pandemic recession managed to flatten Construction employment, whereas the overall economy is still down 5%.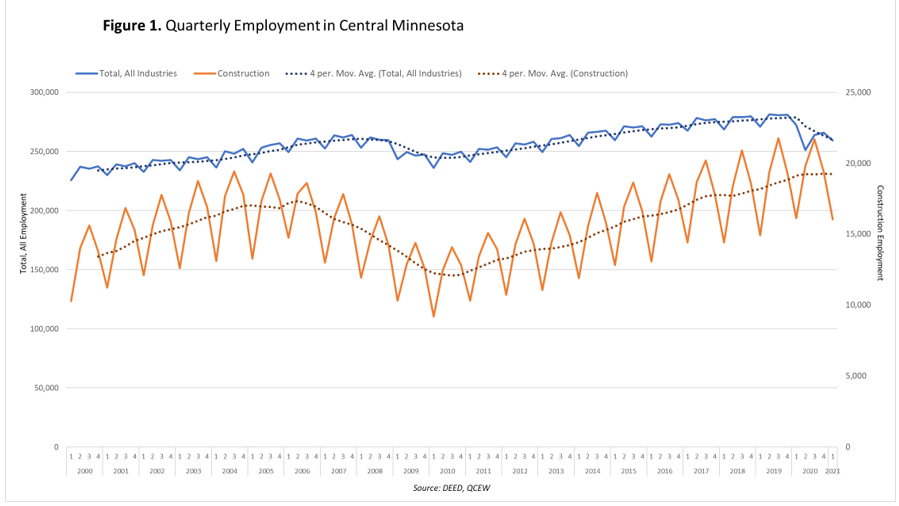 In step with employment trends, Construction job openings also proved steadfast in the past year. Central Minnesota is the only region that showed a growing number of Construction job openings in the 4th quarter of 2020, with 749 Construction openings, an increase of 74 openings from 2019.
The largest number of openings was for Carpenters (396 openings), followed by Construction Laborers (119 openings) and Highway Maintenance Workers (68 openings). Median wage offers for Construction occupations ranged from $15 per hour for entry level Construction Laborers to just over $22 per hour for Carpenters that have at least a year of experience.
The most common occupation found in the Construction industry is Carpenters, representing 12.7% of statewide construction employment. Median hourly wages for fifteen of the most common construction occupations are all above $20 per hour with the only exception being Sales Representatives. Many common Construction occupations require on-the-job training, an apprenticeship, or vocational training. Of the fifteen most common occupations, only Construction Managers and General and Operations Managers require a bachelor's degree (Figure 2).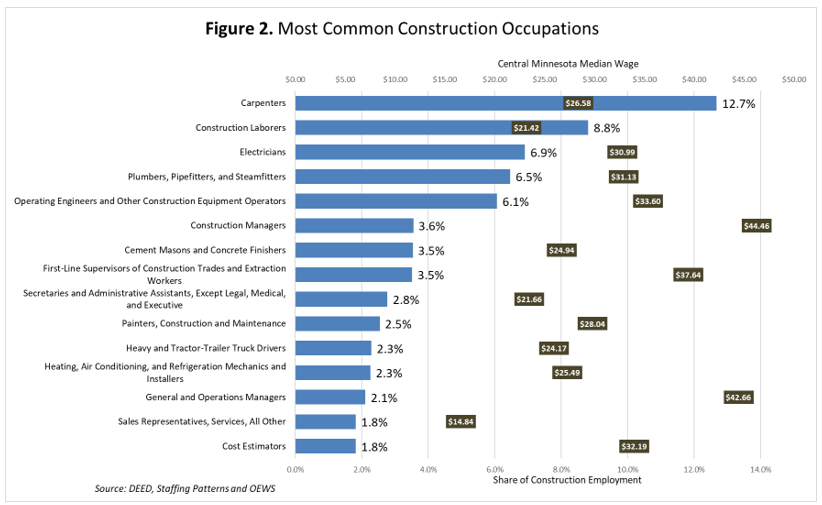 In addition to covered employment, an estimated one- in- five construction workers are self-employed in the United States. These independent contractors have been busy as well. The strength of Central Minnesota's Construction sector is a positive indicator of the overall confidence employers and consumers have in the region. This means that Construction's stable employment is good news for the broader economy in the short term.
For More Information
Contact Luke Greiner at 320-308-5378.