With 2020 now in the past, a precarious New Year's optimism has been the talk of many regarding the year ahead. This is understandable since 2020 proved incredibly difficult professionally and personally. In addition to struggling to remember to sign the correct year for the next few weeks, 2021 will certainly carry forward a number of challenges that 2020 dumped on us. It will take some time for the businesses and workers of Central Minnesota to rebuild and return to the pre-COVID economy.
A component of free market economies is natural churn that occurs as businesses start, shift or close to meet the changing demands of consumers. This constant change can be used as a benchmark for what we would expect to see in a normal year and compare 2020 against it. You might not remember the brief period known as 2019, but it occurred just prior to 2020 and was filled with what now seems like a monotonous amount of normalcy.
From March to April of 2019 Central Minnesota gained 950 new establishments while 586 existing establishments closed, for a net gain of 364 new establishments in the region. This was in line with other regions of Minnesota, which all had more new business establishments than establishments that closed during the second quarter in 2019. Without the pandemic, it would have been reasonable to assume a similar trend would have continued in 2020.
Instead, Central Minnesota employers struggled through rapidly changing consumer preferences, government regulations, supply chain issues and the health of employees. During the same period in 2020, Central Minnesota gained 929 new establishments (21 fewer than 2019), but lost 1,726 establishments (three times more than 2019) for a net loss of 797 business establishments. If we account for the new establishments gains that should have happened based on what we saw in 2019, the losses amount to 1,161 fewer business establishments in the region in the second quarter of 2020. (See Figure 1.)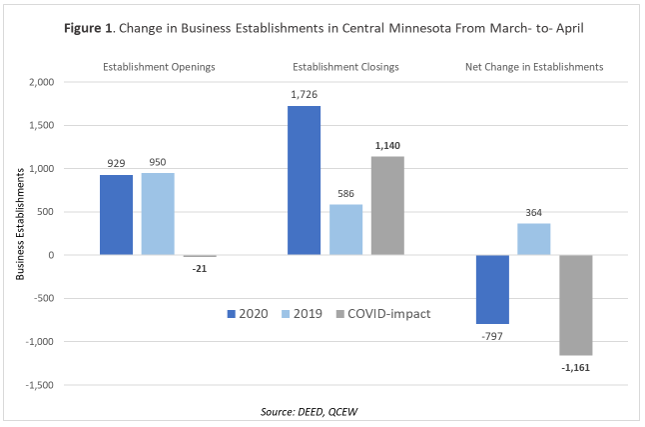 The data show we experienced a slightly reduced amount of new business growth from March to April 2020, but a huge increase in business closings during the second quarter. While not a doomsday scenario, the numerous impacted entrepreneurs and workers may need to rely on the optimism that a new year typically heralds for many months to come.
So as not to leave you with the wrinkled brow of despair, many establishments that closed in the second quarter of 2020 have since reopened. In fact, 62% of establishments that closed between March and April 2020 across the state were back in business by June and it's likely a similar story in Central Minnesota. The new year will bring a new economy in a sense as establishments reopen, open under new owners, and continue trying to find success amidst a pandemic.
For More Information
Contact Luke Greiner at 320-308-5378.