Certain industries have been forced to cease or limit operations by Executive Orders in response to the COVID-19 pandemic, including food and drinking places and personal care services. Those two sectors provided 20,529 jobs in Central Minnesota in 2019, accounting for 7.4% of total jobs in the region.
The vast majority (94%) of those jobs are found at food and drinking places, whereas personal care services has a smaller amount of covered employment and much more self-employment. Despite accounting for 7.4% of total jobs, payroll for those two industries added up to just 3% of total payroll in the region, at $332.5 million, indicating most of these are low-paying jobs.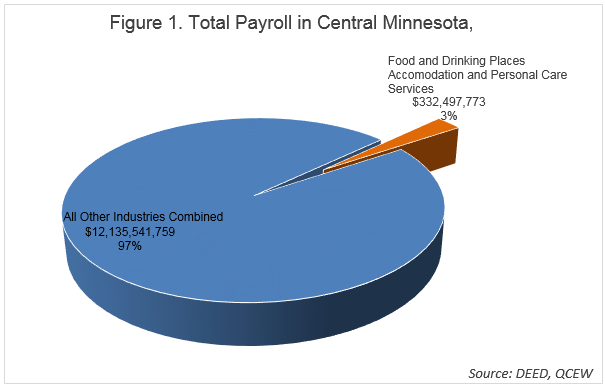 The decade-long economic expansion had driven employment at food and drinking establishments above pre-recession levels, but 2018 and 2019 had shown slight declines in employment. Personal care services, on the other hand, had been slowly declining since 2008.
With the COVID-19 situation still playing out, it's difficult to know what employment will look like in the next weeks, months, and years for these two industries. Central Minnesota bars and drinking places provide about 1,300 jobs, while restaurants and special food service establishments maintained over 18,000 jobs in 2019. Personal care services had 1,235 jobs in 2019. At the time of writing, food places are only available to deliver and provide take-out, while personal care services are not able to operate at all. Job losses have been high in these industries, as evidenced by record numbers of Unemployment Insurance applications.
For More Information
Contact Luke Greiner at 320-308-5378.