The new year brings newly updated 2016-2026 regional employment projections from DEED's Labor Market Information Office. If you are the inquisitive type, you can explore the Employment Outlook web tool to compare projections for industry or occupational employment for each of the state's six regions. Or you can take an analyst's word for it: I've compiled a few highlights for Central Minnesota's expected future employment.
Official employment projections provide a rosy growth prospect for the Central Minnesota region. It is projected to be the fastest growing region in the state with a growth rate of 8.5 percent from 2016 to 2026. This amounts to more than 26,600 net new jobs.
This means 14.6 percent of all new jobs in the state are projected to be gained in Central Minnesota, which will increase the region's share of statewide employment slightly. Currently, the share of statewide employment is 10 percent.
The health care industry is projected to add the most new jobs, expanding by roughly 9,300 jobs between 2016 and 2026, while the construction industry is projected to grow the fastest (+24%).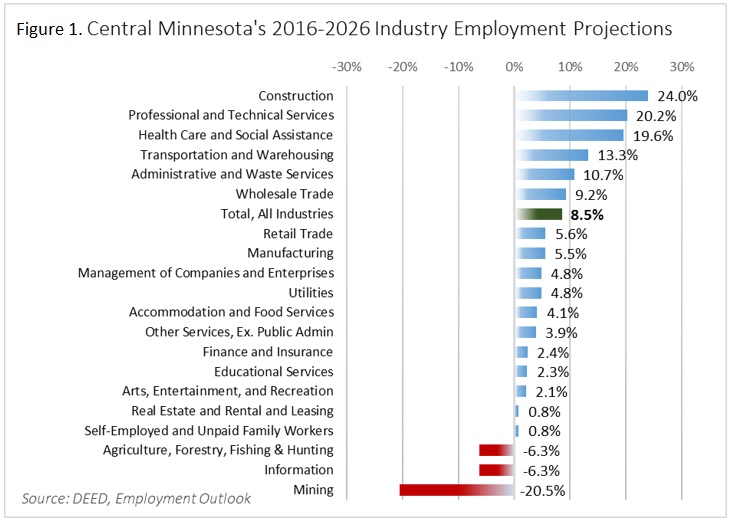 As Figure 1 indicates, employment growth varies substantially by industry, ranging from 24 percent in construction to -20.5 percent for the mining industry (the smallest employing industry in the region). While employment declines are unfortunate, the projected job loss in the three declining industries – mining; information; and agriculture, forestry, fishing, and hunting – amounts to just 537 jobs. That's a relatively small number of lost jobs considering the 337,000 jobs the region is projected to have by 2026.
The industries growing faster than typical include Construction; Professional and Technical Services; Health Care and Social Assistance; Transportation and Warehousing; Administrative and Waste Services; and Wholesale Trade. Absent from that list is manufacturing and retail trade, currently the 2nd and 3rd largest industries in the region. Despite slower than typical growth, manufacturing and retail trade are still expected to hold their places as the 2nd and 3rd largest industries, respectively.
For More Information
Contact Luke Greiner at 320-308-5378.