Record numbers of job openings and slower labor force growth delivered the fourth lowest unemployment rate in Central Minnesota since 1990. At four percent in 2017, the region has a slightly higher rate than the state, but still remains lower than the last period of economic expansion.
With mainly frictional unemployment – the normal rate associated from people transitioning between jobs – the tight labor market is favorable for employees and job seekers looking to maximize earnings. Meanwhile, many employers are finding the current situation challenging, raising wages and experimenting with other benefits to attract skilled workers. The data can remove any doubt that central Minnesota is experiencing upward wage pressure.
From 2015 to 2016, the most recent available annual data, median hourly wages grew by 5.2 percent, the fastest in the state and the biggest year-over-year jump on record (starting in 2003). Inflation during the same period was 1.3 percent.
Since hitting the bottom of the recession in 2010, employers in Central Minnesota have increased payrolls by 25,235 jobs.
The median number of hours worked per quarter grew to 408 in 2016, about 31.4 hours per week. That was the highest median hours on record for Central Minnesota.
With just over 12,300 job vacancies reported in the fourth quarter of 2017, there are now over five times more openings than the low during the Great Recession.
Though wages are up overall, some industries saw hourly wages grow much faster. For example, administrative and waste management services (which includes staffing and temporary help agencies) saw median hourly wages increase by 10.6 percent from 2015 to 2016. Finance and insurance, retail trade, real estate, and accommodation and food service all experienced median hourly wage growth over eight percent in the same period.
Without a significant change in economic conditions, wages will likely continue to maintain their upward trajectory in the short term. As such, the relationship between unemployment rates and wage growth is easy to see in the graph below.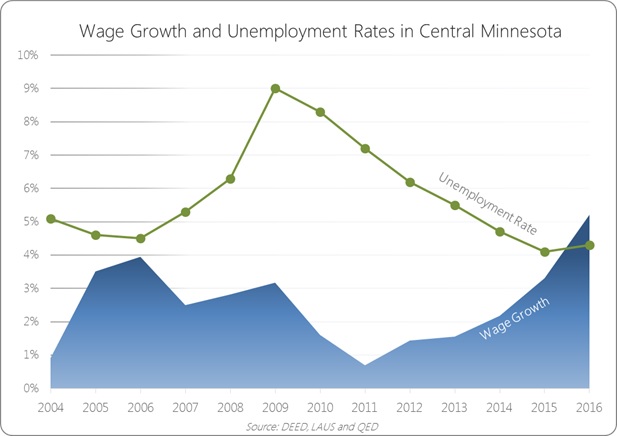 For More Information
Contact Luke Greiner at 320-308-5378.