Nonresidential or commercial construction is the industry that creates the spaces for employers to add equipment and people. Strong employment gains in nonresidential construction is the response of a growing economy. Since bottoming out in 2010, Central Minnesota's economy has added jobs faster than every region of the state except the Twin Cities, and the region's nonresidential construction industry is booming as a result.
While regional employment in the residential building construction industry remains well below the job levels seen leading up to the recession, nonresidential building construction employment is at an all-time high. Since 2010, jobs in nonresidential construction have grown by 50 percent in Central Minnesota, significantly faster than other regions in the state, including the Twin Cities.
Although total employment in the industry is relatively small, with 1,578 jobs in 2016, it is the largest regional concentration of these jobs outside of the Twin Cities. Prior to the recession, employment hovered just north of 1,000 jobs, but then bottomed out in 2010 at 814 jobs. Since then, the demand for nonresidential construction has pushed employment and wages higher during the current economic expansion, driving average annual wages to nearly $60,000.
Digging deeper into the data reveals the two subsectors that are included in nonresidential construction, commercial and institutional building construction and industrial building construction. The commercial and institutional construction subsector is by far the larger of the two, with 94 percent of all nonresidential construction jobs. Both subsectors include businesses that provide not only new construction, but also additions, alterations, maintenance, and repairs. The hierarchy tree below shows the difference between the two subsectors contained in the broader nonresidential building construction industry.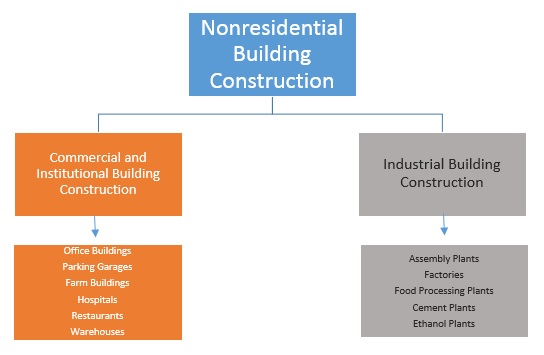 Use the tool below to track employment and wage trends in the nonresidential construction industry in Central Minnesota.
For More Information
Contact Luke Greiner at 320-308-5378.