Cosmetologists in Minnesota are required to complete a 1,550 hour training program and pass a practical, general, and state law exam before becoming licensed - that may surprise job seekers and students looking for a shortcut into a new career.
Because of these licensing requirements, cosmetology is the largest certificate program in the state of Minnesota, averaging about 1,600 graduates per year. Many graduates quickly find jobs, though about 85 percent of them are part-time. While that may seem high, many people choose a career in cosmetology because of the flexibility. Alternative work shifts and part-time schedules allow many cosmetologists to enjoy a work-life balance that may not be as attainable with a typical 9-to-5 job.
In fact, there are more than 10,000 hairdressers, hairstylists, and cosmetologists in Minnesota, and this popular career has about 1,000 jobs in Central Minnesota, the second largest concentration outside of the Twin Cities metro area. In addition, there were also 11,360 self-employed cosmetologists statewide, including 1,360 self-employed cosmetologists in the 13-county Central Minnesota region.
Overall, hourly wage rates for hairdressers, hairstylists, and cosmetologists ranged from $7.95 to $16.11 in Central Minnesota, with 50 percent of cosmetologists earning between $8.55 and $11.66 per hour. Because of the opportunity to earn tips, there is wiggle room to make more.
Data from DEED's Graduate Employment Outlook (GEO) tool shows that median hourly wages for recent graduates from cosmetology and related personal grooming programs rose to $11.09, and wages have shown a steady rate of increase over time. Graduates in those programs from four years ago saw their wages climb from $11.09 to $13.94 per hour, a 26 percent growth. GEO data also show that graduates of cosmetology programs that find full-time, year-round work earned about $31,000 by their fourth year. However, only about one-fourth of those graduates attained full-time, year-round employment.
With such a high concentration of part-time employment, it is interesting to see that 56 percent of the 105 cosmetology job openings in Central Minnesota in the second quarter of 2015 were full-time, suggesting that employers may be looking for more help to meet current demand. However, the median wage offer for these jobs was just $8.53, suggesting that it may be a challenge to recruit - and more importantly, retain - these new workers over time.
To that end, employers in hair, skin, and nail care services in Central Minnesota ended 2014 with the same amount of jobs it had in 2004, despite some ups and downs. Employers were expanding until 2008, then experienced cuts during the recession in 2009 and 2010, and the industry has not seen a full recovery yet. The continued decline and recent Job Vacancy Survey results may mean that employers are now trying to fill what used to be part-time jobs with full-time jobs (Figure 1).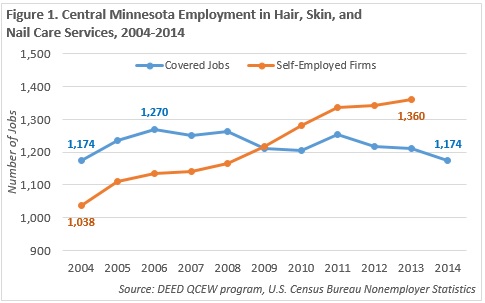 In contrast, self-employment in hair, skin, and nail care services was seeing steady growth in the region regardless of the economy. In fact, by 2009, there were more cosmetologists working for themselves than at employer establishments. Self-employment appears to be an increasingly popular option, after rising 31 percent over the past decade. Average sales receipts at these self-employed hair, skin, and nail care services were $25,270 in 2013.
Due to the region's population growth, Central Minnesota is expected to see fast growth for cosmetologists in the next decade as well. The additional 570 job openings for cosmetologists in the region include 180 net new jobs from employment growth, as well as 390 replacement openings to refill existing jobs that become available when current workers retire, change careers, or become self-employed (Figure 2).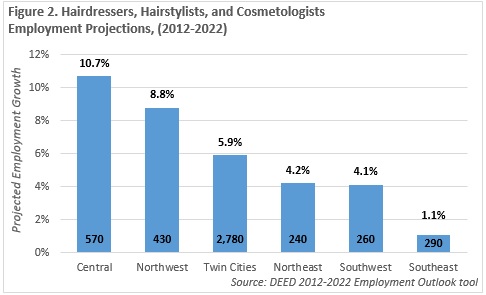 Overall, the data show that careers in cosmetology are in demand now and should continue to provide numerous job opportunities in the future, though many of the jobs may be part-time and start at relatively low wages. Job seekers and students can use this data to inform their career choices and help them determine if cosmetology will meet their expectations.
If you're ready for a career updo, Central Minnesota has three institutions that offer cosmetologist programs. The total costs are for the 2015 school year and include tuition, books, kits, and taxes. Room and board and typical living expenses, such as food and clothing, are not included:
For More Information
Contact Luke Greiner at 320-308-5378.