Knowing what jobs employers are looking to fill can provide great insight for job seekers, students, and counselors in Central Minnesota. This same information is also useful for other groups, such as policy makers, educational institutions, businesses, and HR professionals.
DEED's Occupations In Demand tool provides lists of jobs that are in high demand in each region of the state. One of the benefits of having regional lists is so that large economies, such as St. Cloud in Central Minnesota, don't distort the demands of employers in smaller neighboring labor markets, such as Willmar and Hutchinson to the south and west or Princeton and Pine City to the north and east. Although workers in Central Minnesota commute in and out of their home counties for work, local employer demand shapes much of the job opportunities for the communities across the region.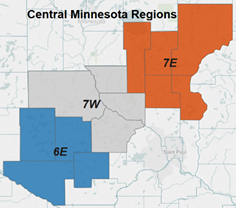 As shown in the map, Central Minnesota is made up of three Economic Development Regions: 6E, 7W, and 7E. The color-coded tables correlate to the regional map and represent just a small fraction of the occupations in demand, but provide an idea of local demand. The full listing contains hundreds of occupations ranked by relative demand in each region.
While each region has slightly different occupations in demand, there are many common themes. For instance, health care occupations are common in the top ten lists for each area, with nursing assistants showing the highest level of demand in both region 6E and 7E.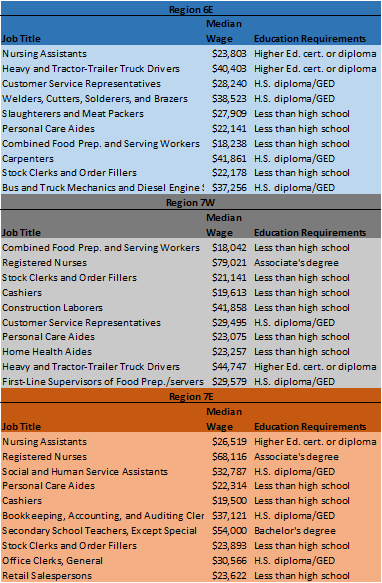 You may notice that educational requirements for the top ten occupations in demand in each region are relatively low, with only one job in the three lists requiring a bachelor's degree. While this might be surprising, it is an example of how entry-level occupations shape demand.
Because they have lower skill requirements, the top job in all three areas and many other jobs found in these demand lists have lower educational requirements and experience higher rates of turnover. However, turnover is normal for these entry-level occupations. One example: after working as a food preparation and serving worker, many people will develop enough skills to move onto another job or a new career.
This is the case for many people that are new to the workforce. While these types of jobs are excellent for gaining work experience and learning the skills to attain other jobs, that also creates turnover, which leads to large amounts of job vacancies that drives up demand.
Knowing what jobs employers are looking to fill allows students and job seekers to align themselves with the current job market and policymakers to govern and establish more effective policies.
Find more Occupations In Demand information.
For More Information
Contact Luke Greiner at 320-308-5378.