Teachers are some of the first professionals that youth become familiar with outside of family, so their influence on children and young adults give them a very important responsibility. For people looking to make a lasting impact in the lives of future generations, Central Minnesota has ample opportunities with over 13,500 special education, pre-school, kindergarten, elementary, middle school, and high school teaching jobs. Adding in substitute teachers, teacher assistants, adult basic education and post-secondary teachers, and the total number of teaching jobs tops 23,000!
Although most young people well understand what teachers do from years of being in the classroom as students, their perceptions could be much different than the actual teaching experience. For job seekers exploring the teaching field, Central Minnesota has various types of teaching occupations that provide employment opportunities for workers with different levels of education.
The most recent job vacancy data from the second quarter of 2016 show that Central Minnesota had 660 education, training, and library training job openings, the second largest amount in more than a decade. This shows heightened demand for educational services workers, in the following areas:
Half of the teaching job openings were for pre-school, elementary, secondary and special education occupations
One-third were for teacher assistants
The remaining one-sixth of openings were for other types of teachers including post-secondary, adult basic education, substitute and self-enrichment education teachers.
Listed in descending order based on recent openings, the chart illustrates the most common positions for those interested in pursuing a teaching career; typical wages for each occupation; and normal education level needed. Although one-third of all teaching openings were for teacher assistants, which typically require a high school diploma, there is a variety of opportunities for residents looking to explore higher education before getting into the teaching field.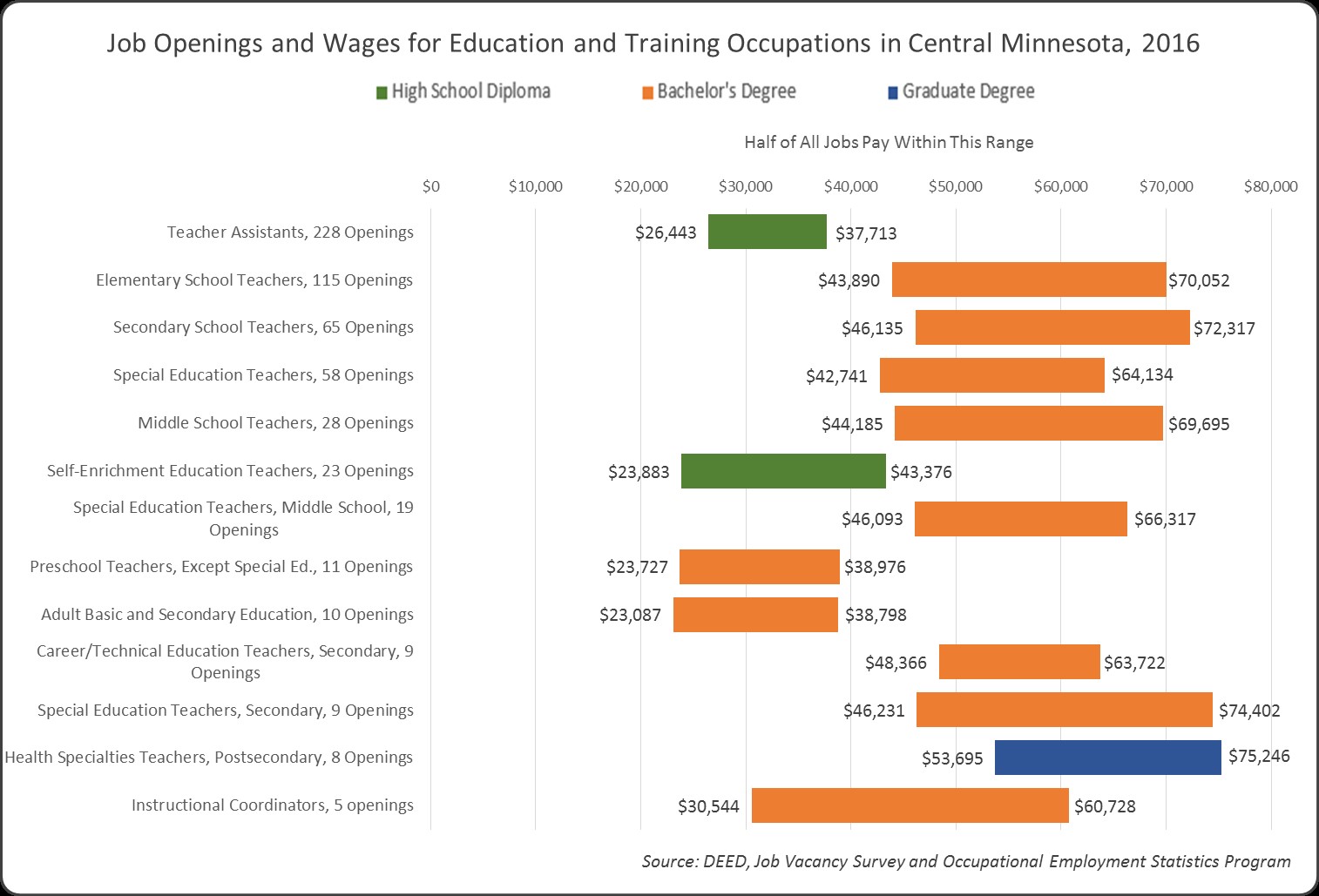 For more information on teaching careers in Central Minnesota, contact Luke Greiner at 320-308-5378 or email Luke.Greiner@state.mn.us.