When thinking of veterans in Minnesota, one word that comes to mind is 'sacrifice.' Minnesota veterans deserve nothing short of the best service to help them obtain employment, whether they are fresh off a deployment or served in earlier conflicts such as the Vietnam War, Operation Desert Storm, or other service eras. DEED offers veterans a wide variety of services focused on their needs, including those veterans residing and looking for work in the Southeast Region.
Southeast Minnesota Veterans
Veterans make up 8.7 percent of the total civilian population 18 years and over, equaling 33,540 veterans in the region. Over one-third of the region's veteran population served in the Vietnam era, while over 12 percent served in either the Korean War or the first Gulf War (1990-2001).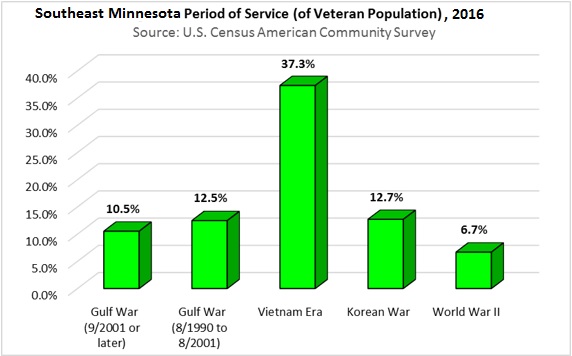 The vast majority (94.1%) of Southeast Minnesota's veterans are male, in line with the state as a whole, where 93.9 percent are male. Over half (54.8%) of the veterans in the region are aged 65 years or over, while the bulk of the remaining veterans are between the ages of 35 to 64 (Table 1).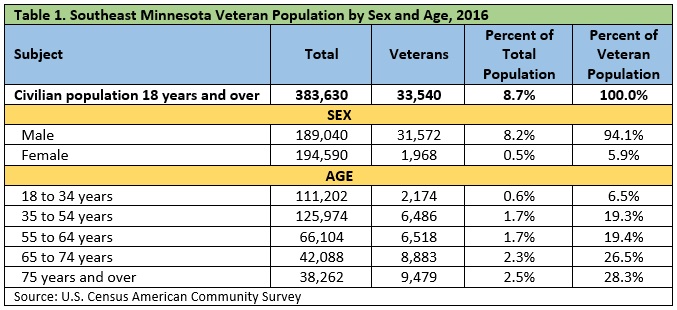 Almost the entire veteran population has a high school diploma (or equivalent) or higher, including 71 percent who have either a high school diploma/GED or some college/associate degree, and 22.5 percent with a bachelor's degree or higher. Only 6.4 percent have less than a high school diploma – likely older veterans who served during a time before high school diplomas were a strict requirement.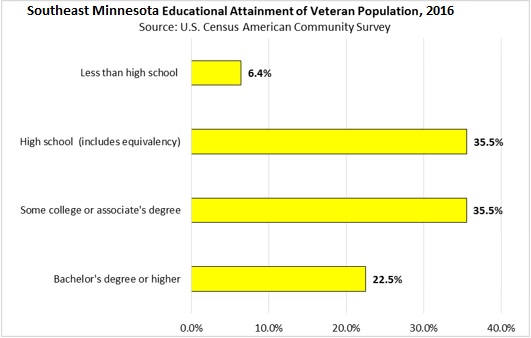 In regards to veterans with disabilities, over one-quarter (26.9%) of the region's veteran population has some sort of disability, compared to a slightly higher 27.5 percent statewide; but way higher than the disability rate for nonveterans (Table 2).

Services for Veterans
Regardless of the period of service, age, sex, educational attainment, or disability status, there are many services DEED provides to veterans, including six WorkForce Centers in the region to help. Veterans receive priority at WorkForce Centers.
DEED employs individuals who are veterans themselves as Local Veterans Employment Representatives (LVER) and Disabled Veteran Outreach Program Employees (DVOP) who specialize in helping those who have served, or are currently serving, in the military. These representatives provide a wide variety of veteran-specific services, including resume writing assistance, job search guidance, information on licensure/certifications/apprenticeships, explanations of employment benefits and rights/veterans preference, direct referrals to jobs, and referrals to other state and federal agencies for additional services, if needed. To locate a LVER or DVOP in the region, visit here.
Additionally, some veterans may find themselves struggling to make the transition from active duty to civilian employment. For these individuals, DEED offers a Transition Assistance Program. Find a complete list of DEED resources for Veterans here.
How Labor Market Information Can Help
DEED's Regional Analysis & Outreach unit can also assist veterans by offering labor market information for the region, including wages, current job openings, occupations that are in demand, employment projections, and cost of living, just to name a handful. Subsequently, if a veteran meets with a LVER or DVOP to explore careers, the regional labor market analyst can determine if the chosen occupation(s) are in demand, what the current and projected openings are, how much they would need to earn to meet the basic cost of living needs, and the wage percentiles for the occupation(s). This labor market information is very valuable to determine if the occupation(s) are a solid option for the veterans in the Southeast region. Here is a list of our labor market analysts statewide, and they are available to answer your questions.
Whether you are currently actively serving in the military, recently returned from deployment, or a veteran from World War II, DEED provides a host of services to assist those who have sacrificed so much for this county. 
For More Information
Contact Mark Schultz.