Current or former military members, no matter the era of service, receive priority services in all WorkForce Centers across the state. This can include help with long-term decisions like career planning or pursuing education, as well as more immediate tasks like posting a resume or landing a job. A statewide network of veterans employment representatives can also help veterans that have significant challenges finding or keeping a job or have a service-connected disability.
Unfortunately, many veterans return from active duty with a service-connected disability. In fact, data show that veterans are more than twice as likely as non-veterans to have a disability. These can range from slight to severe – with the U.S. Veterans Administration using a disability rating scale to determine the amount of benefits or compensation awarded.
According to recent estimates from the Census Bureau's American Community Survey, almost one-fourth of veterans in Minnesota had a service-connected disability – accounting for just over 80,000 people. Half of these veterans had a disability rating of 20 percent or lower, and another 15 percent had a 30-40 percent disability rating. However, about 30 percent had a disability rating of 50 percent or higher, including 20 percent at the highest level.
Southwest Minnesota has a slightly higher concentration of veterans with a service-connected disability than the state, ranging from the county with the second highest rate in the state – Big Stone County at 39 percent - to the lowest – Lincoln County at 10.5 percent. In sum, the region was home to 6,711 veterans with a service-connected disability. Check out this interactive data visualization to see more details on the disability ratings of veterans in each county.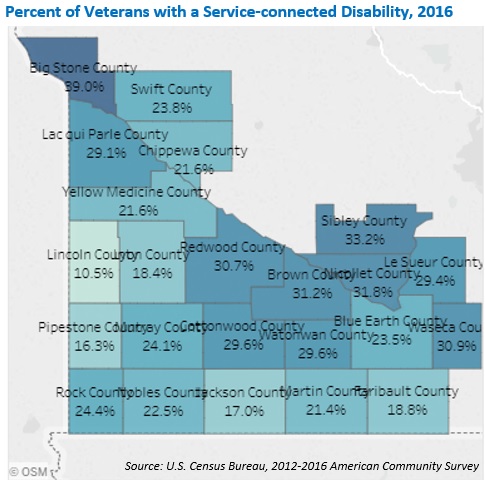 In addition to DEED's employment services, there are a wide variety of resources designed to help veterans across the state:
For More Information
Contact Luke Greiner at 320-308-5378 or Mark Schultz.