With a total of about 566,000 people, Northwest Minnesota's population has been growing but also aging over time. There are now six generations living together, with baby boomers still comprising the largest generation in the region, with just over 143,000 people, followed by Generation Z with about 131,000 youngsters and millennials with 126,000 people. The region has a relatively small representation from Generation X with about 100,000 people, while the two oldest generations – Silent and Greatest – have the smallest population at about 66,500 (Figure 1).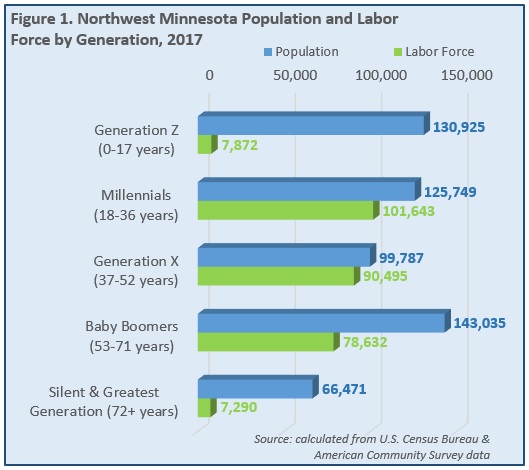 Consequently, there are now also at least five generations at work in Northwest Minnesota, ranging from teenagers in Generation Z to senior citizens from the Silent and Greatest generations. According to recent estimates from the U.S. Census Bureau's American Community Survey, millennials make up the largest cohort in the labor force with about 101,650 workers, followed by Generation X with 90,495 workers. As the front end of the baby boom generation has started reaching retirement age, the number of baby boomers has dropped to just under 79,000 workers, and there are still about 7,300 workers age 72 and older in Northwest Minnesota. Generation Z is just entering the workforce, but already provides nearly 8,000 workers.
According to population projections from the Minnesota State Demographic Center, Northwest Minnesota is expected to gain just over 7,000 new residents through 2030, with much of the growth due to an aging population. If Northwest Minnesota changes at the projected rates, applying current labor force participation rates by age group to future population projections by age group means the region will see a slight decrease in the labor force over the next decade. This departure from a growing to a shrinking labor force would be unprecedented in the region (Table 1).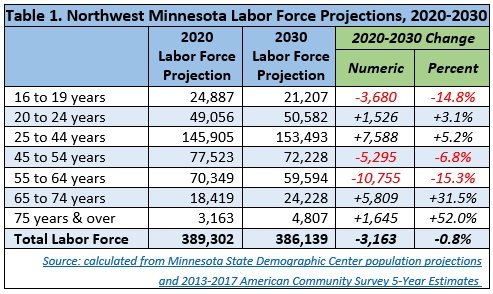 Aside from an overall decrease, the age structure of the labor force is also projected to shift over time, with gains in the number of workers age 65 and over against large declines in the number of workers age 45 to 64. However, the region is still expected to see gains in the number of entry-level workers age 20 to 44. In step with workforce declines, the shifting age structure will lead to an even tighter labor market in the future with employers needing to respond to changing labor force availability.
Using data from the Census Bureau's Population Estimates program, DEED created an interactive visualization that provides insight into the estimated size of the generations in each region and county in the state for 2017. This tool can help local elected officials and workforce development professionals understand the demographic shifts occurring in their geography.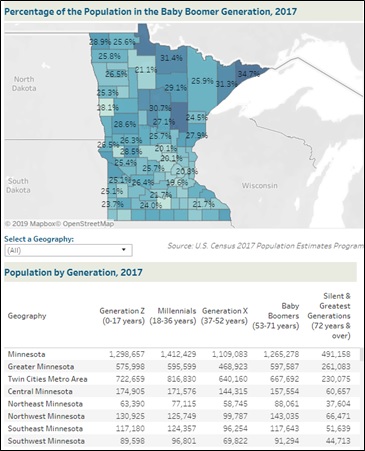 For More Information 
Contact Cameron Macht at 320-441-6596.