Telecommuter Forward! Certification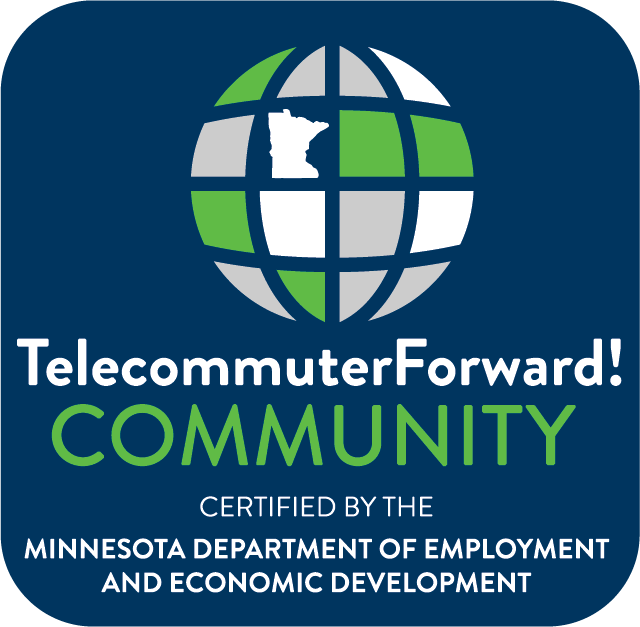 Telecommuter-friendly policies create new potential for improving the quality of life for employees, encouraging economic innovation and vitality in communities throughout Minnesota, and add new opportunities for civic engagement and collaboration.
Communities Certified as Telecommuter Forward!
You can see this list and a map of where these communities are located below. We will recognize Minnesota communities that newly gain this certification on a regular basis.
Communities Wishing to Become Telecommuter Forward! Certified
Cities, townships and counties that receive the Telecommuter Forward! Certification have adopted a model resolution that includes a statement of support and commitment to promoting telecommuting. As part of the model resolution the community appoints one employee or department as the single point of contact for coordinating telecommuting opportunities with that community.
By committing to being Telecommuter Forward! these communities are improving the quality of life in Minnesota and encouraging economic vitality.
Communities can find a model resolution template and instructions on becoming certified below.
Since 2014, DEED has awarded over $126 million in broadband infrastructure grants to fund 179 projects across Minnesota, with the goal of border-to-border broadband access. Reliable high speed internet access is recognized as essential for successful telecommuting. This certification expands upon border-to-border broadband efforts by providing a way for communities to promote themselves to Minnesotans interested in telecommuting and to businesses that support growing their telecommuting workforce.