New data from DEED's Quarterly Census of Employment and Wages shows that there were 163,696 jobs in the region in the first quarter of 2021 – down almost 8,500 jobs (4.9%) from the pre-pandemic levels of the first quarter of last year. Data show that the region had been seeing year-over-year declines in the first quarter for the past couple years, but the magnitude of this most current COVID-19-related loss is completely unparalleled.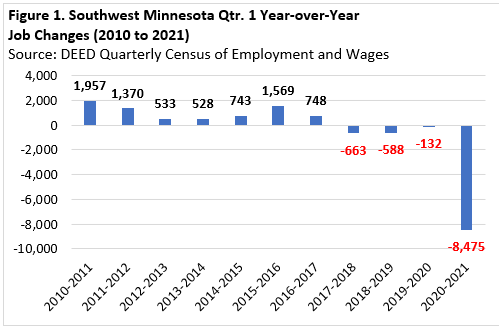 As shown in Figure 1, the region had enjoyed job gains in years past, seeing consistent growth during the first quarters of 2010 through 2017. These gains ranged from a low of 533 additional jobs seen from 2012 to 2013 to a high of 1,957 jobs gained from 2010 to 2011. However, the region experienced a downturn in 2017 and has been suffering from annual job losses more recently. More specifically, the region lost 663 jobs from 2017 to 2018, dropped 588 jobs from 2018 to 2019, and shed 132 jobs from 2019 to 2020. While these losses are notable in comparison to continuing employment gains in the state, they are nowhere near the loss seen over the last year (first quarter 2020 to first quarter 2021) where the region experienced a loss of 8,475 jobs.
As the pandemic recession gripped the region and state, job losses were experienced by 19 of the 20 industry sectors in the region from the first quarter of 2020 to the first quarter of 2021. Job losses were most significant in Accommodation and Food Services (-1,782 jobs or -15%), Health Care and Social Assistance (-1,535 jobs or -4.9%) and Educational Services (-1,273 jobs or -7.4%). Together, these three industry sectors accounted for over half (54.2%) of the total jobs lost over the year.
To put that into perspective with past trends, two of these three industry sectors gained jobs from the first quarter of 2019 to 2020, with Accommodation and Food Services gaining 136 jobs and Health Care and Social Assistance seeing an increase of 49 jobs. And even though Educational Services lost jobs from the first quarter of 2019 to 2020, the loss (-49 jobs) was nothing compared to what this industry sector experienced in the most recent year.
Percentage-wise, the largest relative losses were experienced by Arts, Entertainment and Recreation (-29.4%), Mining (-28.6%) and Accommodation and Food Services (-15%). On the other hand, only one industry sector experienced a net gain of jobs during this time, albeit a small one. Management of Companies and Enterprises saw a gain of 21 jobs for an increase of 1.4% (see Table 1).
Table 1. Southwest Minnesota Job Changes by Industry Sector (1st Qtr. 2020 to 1st Qtr. 2021)
Industry Sector
1st Qtr. 2021 Jobs
1st Qtr. 2020 Jobs
Numeric Change
Percent Change
Total, All Industries
163,696
172,171
-8,475
-4.9%
Agriculture, Forestry, Fishing and Hunting
5,137
5,316
-179
-3.4%
Mining
175
245
-70
-28.6%
Construction
6,387
6,555
-168
-2.6%
Manufacturing
29,769
30,404
-635
-2.1%
Utilities
912
935
-23
-2.5%
Wholesale Trade
7,097
7,454
-357
-4.8%
Retail Trade
18,475
18,879
-404
-2.1%
Transportation and Warehousing
7,042
7,257
-215
-3.0%
Information
2,094
2,369
-275
-11.6%
Finance and Insurance
6,058
6,175
-117
-1.9%
Real Estate and Rental and Leasing
1,253
1,418
-165
-11.6%
Professional, Scientific, and Technical Services
3,595
3,623
-28
-0.8%
Management of Companies and Enterprises
1,486
1,465
+21
+1.4%
Admin. Support and Waste Mgmt.
3,242
3,322
-80
-2.4%
Educational Services
15,991
17,264
-1,273
-7.4%
Health Care and Social Assistance
29,743
31,278
-1,535
-4.9%
Arts, Entertainment, and Recreation
1,254
1,777
-523
-29.4%
Accommodation and Food Services
10,130
11,912
-1,782
-15.0%
Other Services (except Public Administration)
4,597
4,988
-391
-7.8%
Public Administration
9,252
9,529
-277
-2.9%
Source: DEED Quarterly Census of Employment and Wages
It goes without saying that the largest job losses occurred from the first to the second quarter of 2020 due to the onset of the pandemic. During this short period of time, the region lost an unprecedented -11,692 jobs for a drop of -6.8%. It is, however, promising to see that from the trough in the second quarter of 2020 to the fourth quarter of 2020, the region gained back a significant portion of those initial lost jobs. The new first quarter 2021 data shows that the region is continuing to pave the path to a recovery.
For More Information
Contact Labor Market Analysts Luke Greiner at 320-308-5378 or Mark Schultz or reach out to your local CareerForce location.