When people think about health care, they often first picture either a hospital or a clinic. That makes sense, both because of what we see on TV, and because those two sectors are vital parts of the health care system. In Southwest Minnesota, there were 82 clinics, also known as Offices of Physicians, and 31 Hospitals, providing about 3,500 and 7,700 jobs, respectively. Combined they account for just over one-third of total employment in the Health Care and Social Assistance industry.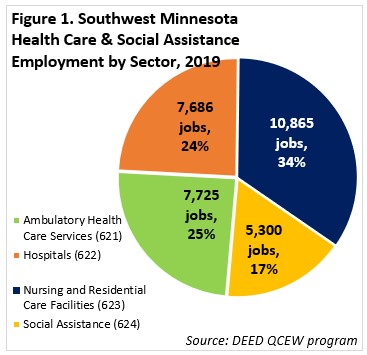 But they also overshadow the other sectors of Health Care and Social Assistance that employ people across the region. Serving the region's older population, the largest health care sector in Southwest Minnesota is actually Nursing & Residential Care Facilities, which provided 10,865 jobs at 261 establishments. That was over 3,000 jobs larger than both Ambulatory Health Care Services (which includes Offices of Physicians) and Hospitals, and twice as big as Social Assistance (see Figure 1).
Nursing and Residential Care Facilities include four subsectors, the largest being Nursing Care Facilities, which had 5,675 jobs at 71 establishments in the region. Similarly, there were 51 Continuing Care Communities for the Elderly and Assisted Living Facilities in the region, providing 1,418 jobs. With a growing percentage of the population that is age 65 and older (nearly 20% of Southwest Minnesota's population already 65 years and over) these subsectors provide an essential service to the region's elderly residents and their families.
Statewide, Nursing and Residential Care Facilities account for 3.9% of total employment; but in Southwest Minnesota, they provide 6.2% of jobs. Eighteen of the 23 counties in the region have at least 5% of total employment at Nursing and Residential Care Facilities, including Jackson County, which at 21.7%, had the highest concentration of jobs in this sector of any county in the state (see Map 1).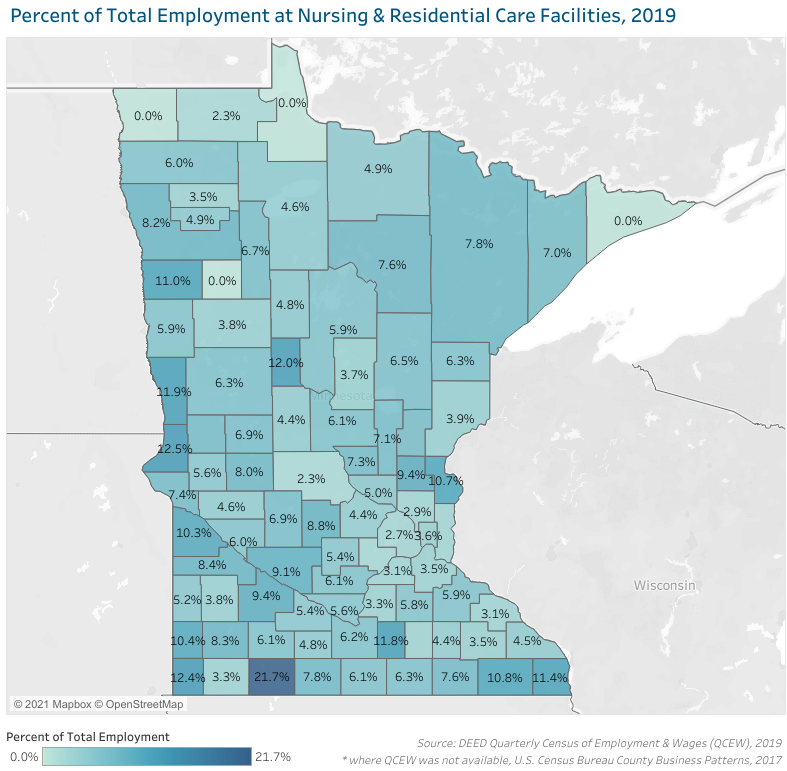 In the midst of the COVID-19 pandemic, demand for workers at Nursing and Residential Care Facilities is higher than ever. Hiring managers at many skilled nursing homes and assisted living facilities are in dire need of workers, specifically: Home Health and Personal Care Aides, Licensed Practical Nurses, Nursing Assistants, and Registered Nurses, as well as Maids and Housekeeping Cleaners, Cafeteria Cooks, and Maintenance and Repair Workers. Job seekers who are interested in these types of health care careers can use the resources at their local CareerForce location, read more about Health Care Month, or get connected immediately using CaringCareersStartHere.com or search open long-term care or other health care jobs at CareerForceMN.com/job-search.
Current long-term care employment demand will likely extend into the future. One example, after adding nearly 500 additional jobs over the past ten years in Southwest Minnesota, Community Care Facilities for the Elderly are expected to add another 250 jobs in the next decade, making it one of the fastest growing subsectors in the region. Likewise, Home Health Care Services is projected to expand by nearly 40% from 2018 to 2028 according to DEED's Employment Outlook tool, which is 25 times faster than the entire regional economy is expected to grow. Data clearly show that long-term care employment will play a prominent role in the region in the long term.
For More Information
Contact Labor Market Analysts Luke Greiner at 320-308-5378 or Mark Schultz or reach out to your local CareerForce location.