After setting new record highs the past two years, the number of job vacancies in Southwest Minnesota fell by 5,500 in the second quarter of 2020, matching levels last seen from 2014 to 2016. The 44% drop in the region was far and away the largest decline of the 6 planning regions in the state, which overall saw job vacancies decrease by about 24% from 2019 to 2020. Still, employers in Southwest reported nearly 7,000 openings this summer, showing demand for jobseekers despite the coronavirus pandemic (see Figure 1).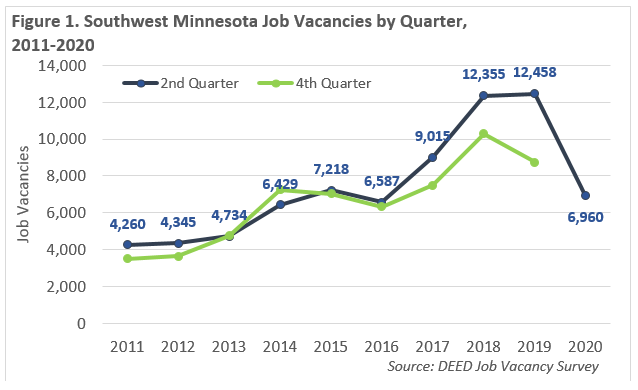 Like most of the rest of the state, Southwest saw drops in hiring demand in major industries including Manufacturing, Health Care and Social Assistance, and Leisure and Hospitality. Combined, those three industries saw 2,650 fewer vacancies this summer compared to 2019, a nearly 50% decline. However, no industry suffered a bigger decline than Agriculture, which sliced more than 1,500 job openings over the year, despite a much more favorable spring planting and fall harvest season.
The region also experienced big drops in demand in white collar industries including Professional and Technical Services, Finance and Insurance, and Real Estate, Rental and Leasing, which showed a nearly 95% cut in openings compared to last year. In contrast, Southwest saw an increase in job vacancies in five industries, led by more than three times as many vacancies in Wholesale Trade, reflecting job gains in Farm Product and Farm Supplies Merchant Wholesalers, as well as smaller bumps in Educational Services and Public Administration (see Figure 2).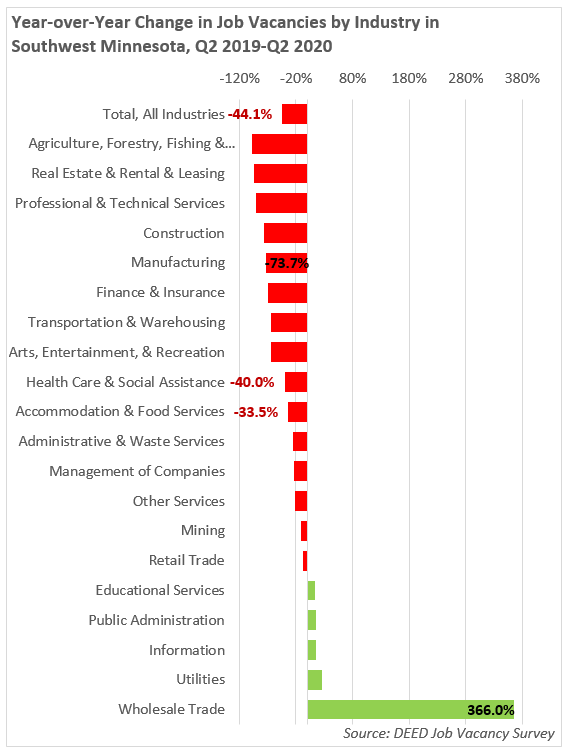 The drop in lower-paying vacancies over the year led to a higher median wage offer overall, which is good news for job seekers. After enjoying a 14% rise over the past year, the median wage offer hit $15.81 in Southwest Minnesota, the highest on record. This included wage increases in 18 of the 20 industries, with only Construction and Educational Services providing lower offers this year compared to 2019. The median wage offer increased nearly $2.00 overall, but gains ranged from less than a dollar more per hour in Administrative Support and Waste Management Services and Health Care and Social Assistance to more than $10 more per hour in Professional and Technical Services and the hard-to-fill and in-demand Transportation and Warehousing openings.
Encouragingly, wage offers for frontline workers in both Accommodation and Food Services and Retail Trade jumped around $2.50 per hour over the year, as employers struggled to attract and retain workers. Anecdotal reports suggest that many workers also received hazard pay for their work during the coronavirus pandemic, helping to prop up wages in these and other typically low-paying industries.
For More Information
Contact Labor Market Analysts Luke Greiner at 320-308-5378 or Mark Schultz.