To help develop a qualified workforce in the region, CareerForce partners Southwest Minnesota Private Industry Council (SWMNPIC) and the South Central Workforce Council have been sharing labor market information through the Southwest Minnesota Careers Facebook page. This has included a series of infographics exploring various industries and occupations in demand in the region, ranging from health care to information technology to construction.
Though the coronavirus pandemic stopped many in-person job counseling activities at CareerForce locations, it did not stop local workforce development partners from sharing career information over the phone and online. The SWMNPIC started doing virtual career conversations with people who are working in occupations in demand in the region to give jobseekers and students a better idea of what those jobs look like and how to get them.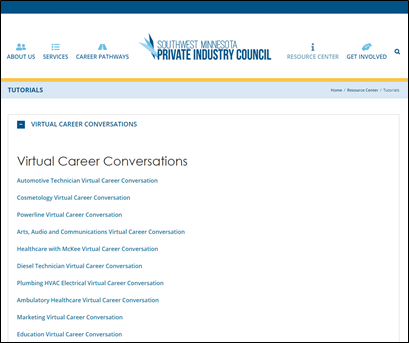 For example, job seekers who are considering a career in the healthcare field can watch multiple videos with recorded interviews between SWMNPIC staff and health care workers, including a physician's assistant at Avera Medical Center in Marshall, an ophthalmologist, an RN and professor at Southwest Minnesota State University (SMSU), an exercise science professor at SMSU, and a physical therapist with Big Stone Therapies. The panelists talk about their experience picking out their careers, gaining their education, and their experience working with clients. It provides an in-depth look at the benefits of the career and the process for being successful.
In another video, two representatives from the Marshall Area Chamber of Commerce explain their roles for students or job seekers who might want to explore careers in marketing. They explain their interests and backgrounds, their career pathway, their typical job duties and how work is evolving, and their enjoyment of working with members and other stakeholders.
Here are all the virtual career conversation videos produced so far:
In a rapidly changing economy where demand for jobs may be shifting and workers will need help with re-training and job placement, gaining a better understanding of the occupations in demand in the region and hearing from people actually doing those jobs in the region should be incredibly helpful.
NOTE: you can find out more about occupations in demand throughout Minnesota, including wage information and links to occupation pages with educational requirements, daily tasks and career videos on the Jobs in Demand page on the CareerForceMN.com website.
For More Information
Contact Labor Market Analysts Luke Greiner at 320-308-5378 or Mark Schultz.