When unemployment rates were released for May of 2020, the state of Minnesota saw an increase from April, up to 9.9%, the highest rate reported since modern records started in 1976. Rates rose in Southwest Minnesota as well, but at just 6.6%, the region showed the lowest unemployment of the six planning areas in the state.
Southwest Minnesota was home to 13 of the 20 lowest county unemployment rates in the state, including Rock County (3.3% ; 2nd lowest), Pipestone County (3.4% ; 4th lowest), and Lincoln County (3.6%; 6th lowest). In contrast, none of the 23 counties in the region were in the top 25 highest county rates in the state, and only four counties had rates at 8.0% or higher (see Figure 1).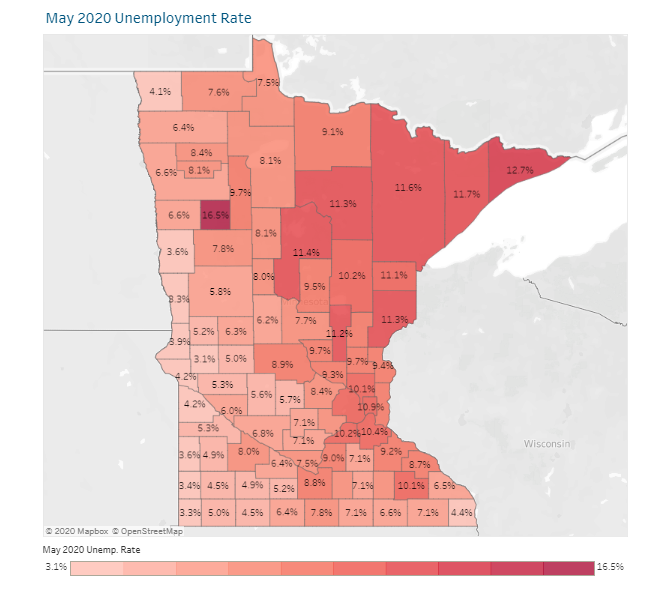 Southwest Minnesota has a higher concentration of employment in less-impacted industries like manufacturing, health care and social assistance, and agriculture than the rest of the state, and a relatively smaller share of jobs in hard-hit industries like accommodation and food services, other services, and administrative support and waste management services. So far, data has shown less of an employment impact from the COVID-19 pandemic in Southwest Minnesota, further evidenced by the continuing low unemployment rates and the lower share of Unemployment Insurance (UI) claims as a percentage of total labor force in the region.
But the region's manufacturers are not immune – there has been an increase in UI activity in recent weeks. Despite the low rates, data from DEED's Unemployment Insurance (UI) tool show that the number of applications for unemployment were increasing fastest in Southwest Minnesota from the beginning of June through June 23, following an 8.9% increase between June 2 and June 23. At the county level, the fastest increases were happening in Nobles, Jackson, and Cottonwood County, mostly related to layoffs for production workers. Counties with higher manufacturing concentrations were starting to see bigger upticks in UI activity.
For More Information
Contact Labor Market Analysts Luke Greiner at 320-308-5378 or Mark Schultz.