Southwest Minnesota is at the forefront of Minnesota's agriculture industry. According to data from the recently released 2017 Census of Agriculture, there are 18,319 farms in Southwest Minnesota, accounting for 26.6 percent of all the farms in the state. In addition, the 23-county planning region is also home to 24.4 percent of the state's covered jobs in agriculture. No other region in the state relies more heavily on agriculture for economic success.
As such, demand for workers in agriculture is high across the region, prompting our workforce development partners at the Southwest Minnesota Private Industry Council and the South Central Workforce Council to promote career paths in agriculture and food manufacturing through a series of posts on the Southwest Minnesota Careers Facebook page.
Recent posts on the social media site have focused on the wide variety of opportunities in agriculture, ranging from entry-level jobs like farmworkers, agricultural equipment operators, and slaughterers and meat packers to higher-level careers like farm equipment mechanics and service technicians, agriculture and food science technicians, and veterinarians.
The joint #knowbeforeyougo campaign has created a series of infographics that explain the local labor market information in a format that students and job seekers might connect with better. The bright colors and quick summaries are meant to help people understand relevant data on the careers and industries that are in demand in the region.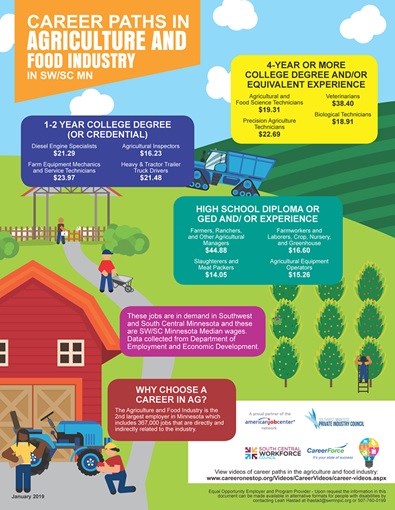 This includes wage information, typical educational requirements, current and future demand, and a more detailed description of the job, work qualities, and work environments. Job seekers can learn that agricultural and food science technicians are likely to work in a lab setting or greenhouse, while diesel mechanics work in repair shops or travel onsite to fix problems with machinery.
For More Information
Contact Luke Greiner at 320-308-5378 or Mark Schultz.