Perceptions matter when it comes to what young people think about their communities and local economic opportunities, as an article in Minnesota Economic Trends shows. Perhaps surprisingly, students in Southwest Minnesota appear to favor staying in their communities after graduating if they can secure a 'good paying job.' Seventy-five percent of students surveyed indicated they would stay in their area if they had an acceptable job prospect. This is excellent news for rural communities and companies!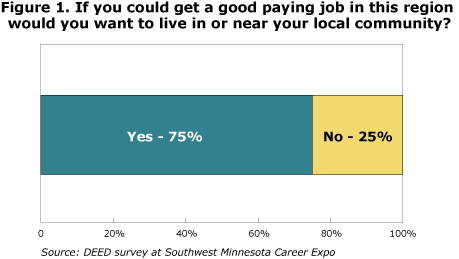 Using survey data from DEED's participation in the Southwest Minnesota Career Expo, we can gain valuable insight into the perceptions of the next generation of workers. Roughly 2,000 10th grade students in the southwestern region took the survey.
When 10th grade students were asked about their plans after high school, they responded as follows: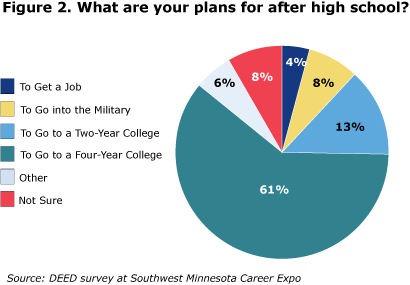 Using data from SLEDS, we know that over one-fourth of high school graduates join the workforce right after high school. This is problematic not because they aren't going to college, but rather because they might not have been preparing for the vast majority of jobs that require nothing more than a high school diploma but still require skills. Since only 4 percent of 10th grade students indicated they plan to join the labor force after completing high school, how well do they know the labor market or skills employers are looking for?
Being successful without college in Southwest Minnesota takes careful and intentional planning, just like going to college does.
The success of these students and the regional economies across rural Minnesota can improve by aligning educational programming to labor market demand. How students perceive their own local labor market is critical to retaining and attracting qualified workers. With record numbers of job openings and a declining labor force in many rural counties, Southwest Minnesota can't afford to have students misunderstand their economic opportunities within it.
For More Information
Contact Luke Greiner at 320-308-5378 or Mark Schultz.